Estimated read time: 2-3 minutes
This archived news story is available only for your personal, non-commercial use. Information in the story may be outdated or superseded by additional information. Reading or replaying the story in its archived form does not constitute a republication of the story.
Karen Scullin reportingCAPT. BOB LAVIN, GRANITE DISTRICT POLICE DEPARTMENT: "THIS IS ONE OF THE MORE BIZARRE THINGS THAT I'VE BEEN INVOLVED IN ALL THE TIME I'VE BEEN HERE"
A strange and elaborate plot, to kidnap a 17- year old girl is foiled.
Authorities say several teenagers, along with a 20- year old, were involved in the plot.
One of them, is the intended victim's former -boyfriend.
The seventeen year old victim was on her way to Kearns High School this morning ---but as she started walking toward the front doors ----she knew someone was following her. Just seconds later --- the suspects got out of a car to carry out a terrifying kidnapping plot.
Seven people are allegedly involved in the plot --- three men, a woman, and a juvenile remain in custody tonight. Police say they were actually PAID to help carry out a plot to kidnap a seventeen year old Kearns High School student.
Capt. Bob Lavin/Granite Police Dept.: "HE WANTED THIS GAL BAD ENOUGH THAT HE PAID A COUPLE OF THESE KIDS, HE ACTUALLY WENT AND TOOK OUT A SMALL LOAN AGAINST HIS CAR, AND PAID A COUPLE OF THESE KIDS TO ASSIST HIM, SO IT'S ONE OF THOSE BIZARRE STORIES THAT'S TRUE"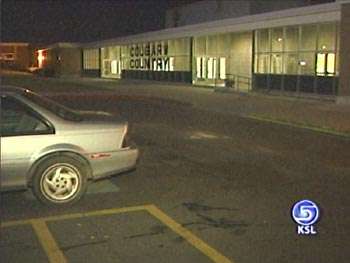 Lavinn says the plan was put into action... very early this morning.
Capt. Bob Lavin/Granite District Police: "THEY ACTUALLY SET UP SURVEILLANCE ON HER HOME, THEY WENT TO A STORE AND BOUGHT A B.B. GUN, ANOTHER ONE PROVIDED THE KNIFE"
As the victim walked toward school---she saw her ex-boyfriend following ---he yelled that he had a gun and to get in the car. Then suddenly ---he jumped out and started chasing her.
Capt. Lavin: "CAME UP TO HER WITH A KNIFE, AND PUT HIS ARM AROUND HER NECK AND PUT THE KNIFE TO HER NECK AND STARTED DRAGGING HER TOWARDS THE CAR. SHE WAS KICKING AND SCREAMING"
A woman and the assistant principal started yelling---and the suspects let her go.
Police arrived a short time later.
Capt. Lavin: "IT WAS VERY APPARENT THAT SHE WAS VERY SHAKEN, AND HAD SOME BIG RED MARKS ON HER NECK."
The ex-boyfriend was arrested just outside his home---again four adults and a juvenile remain in custody tonight---two were released. As for a motive? --police say---infatuation. They also say the victim is a courageous and lucky young woman.
×