Estimated read time: 2-3 minutes
This archived news story is available only for your personal, non-commercial use. Information in the story may be outdated or superseded by additional information. Reading or replaying the story in its archived form does not constitute a republication of the story.
Sandra Yi ReportingeBay calls itself the world's market place. But a Utah man is accused of using the online auction as a way to fence thousands of dollars in stolen goods.
Police say the West Jordan man ran a widespread ring for months. He managed to sell 300 stolen items to the highest bidders all around the country before another Utah man helped police put him out of business.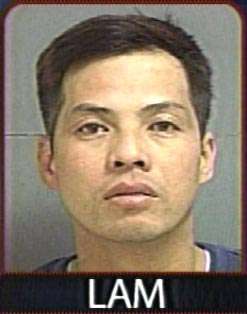 Police say the suspect had listed more than 500 stolen items on eBay since June. He finally got caught when a Midvale man got a call from a friend and recognized one of those items as his.
Dustin Hansen, Burglary Victim: "He called me at 7 o'clock in the morning, got all excited and said, 'Hey, I see your gun'. I had some doubts, but he gave me the item number. I went in and took a look and needless to say, it was definitely my gun."
His stroke of luck helped police nab 36-year old Nhuan Lam who allegedly sold hundreds of stolen items on eBay. One of them was Dustin Hansen's customized paintball gun. It was stolen from his garage last month. Then his friend recently saw it on the popular internet auction site, eBay.
Dustin Hansen, Burglary Victim: "The odds of having a three day listing and having a friend see it in that short of time and be aware enough to not have that get sold to someone else and be gone forever, I feel very fortunate."
Hansen called police who soon discovered Lam had hundreds of stolen goods in his West Jordan home. Many of them, big ticket items, including lawn mowers, snow blowers and computers. Police say Lam and his wife bought the items cheap from burglars then auctioned them off at irresistible prices.
Det. Doug McGrath, Midvale Police Dept.: "It was pretty much, she would do the listings on eBay and have the money sent to her. He was the contact for the thieves that were on the street. He would collect the items from them, give them to her. She would post on eBay. And when he's not busy, not out getting it, he would arrange for the shipping to ship it off to those who bought it."
The sellers had nearly 200 positive feedback ratings on eBay. Hansen printed out some of those listings.
Dustin Hansen: "Camcorders for 96 dollars when they sell it used online for 300 dollars. It's various of different items. 13 hundred dollar laptops for 600 dollars. People are getting screaming deals on this stuff for sure."
Lam was arrested for possessing stolen property; charges are pending.
×
Most recent Utah stories