Estimated read time: 2-3 minutes
This archived news story is available only for your personal, non-commercial use. Information in the story may be outdated or superseded by additional information. Reading or replaying the story in its archived form does not constitute a republication of the story.
Gene Kennedy Reporting The small town of Saratoga Springs wants its own police force. One man now has the task of building it from the ground up.
It's a tough but rewarding job. The lone soldier is Gary Hicken. He's an outsider hired to take the lead on something very important.
Gary Hicken: "Well right now I'm the chief of me and nobody else."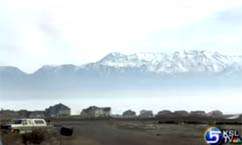 Not much for Gary Hicken to watch over in this small town nestled between Utah Lake and Eagle Mountain. But word is out. He's the first top cop in Saratoga Springs. For now, Hicken spends his day in an office creating a budget.
Gary Hicken, New Police Chief, Saratoga Springs: "You take for granted the patch you wear on your shoulder as a police officer. That needs original art and everyone, the city council, has to feel comfortable with that. The cars you drive, the desks, the computers, the weapons."
Hicken has done this before as police chief in Buena Vista, California. His resume includes nearly 30 years in law enforcement, but building a police department from scratch is a career milestone.
Gary Hicken: "It's the opportunity to take the knowledge and background I have and put together a police department that will serve the people's needs and do what they want, and I know it's done right."
But, you may ask, why have a police department in a town of only 13,000 people?
Gary Hicken: "It's a growing community!"
And more people unfortunately equals more crime. Hicken's plan is to hire 15 officers to serve 30 square miles.
Gary Hicken: "I have a file a pretty good size of employment applicants."
The officers chosen will take the place of Utah County deputies who currently serve this community.
Kevin Sims, Saratoga Springs Resident: "I think by bringing in our own that we'll be able to concentrate a little more specifically on our own city's needs."
Amy Monson, Saratoga Springs Resident: "We don't have a lot of crime right now, and I think this could help prevent some of it from coming out here, is what I hope."
Gary Hicken: "I think they'll find that it'll be easy for us to respond. It'll be the same officers in the neighborhoods each day. They won't change."
Soon, Gary Hicken won't be a chief of "me." Hicken expects city leaders to decide on the budget next week. We'll see if the new chief gets everything he's hoping for.
×
Most recent Utah stories