Estimated read time: 2-3 minutes
This archived news story is available only for your personal, non-commercial use. Information in the story may be outdated or superseded by additional information. Reading or replaying the story in its archived form does not constitute a republication of the story.
SALT LAKE CITY -- A Thanksgiving meal came a few days early for thousands of homeless and low-income families in the Salt Lake area, as the Larry Miller family and the Utah Jazz hosted the 11th annual We Care We Share event.
A crowd of thousands covered the plaza before the doors opened Monday morning. Once those doors did open, they surged forward to participate in the early Thanksgiving celebration -- first by receiving warm clothing, and then a hearty meal. This year more people are homeless and in need.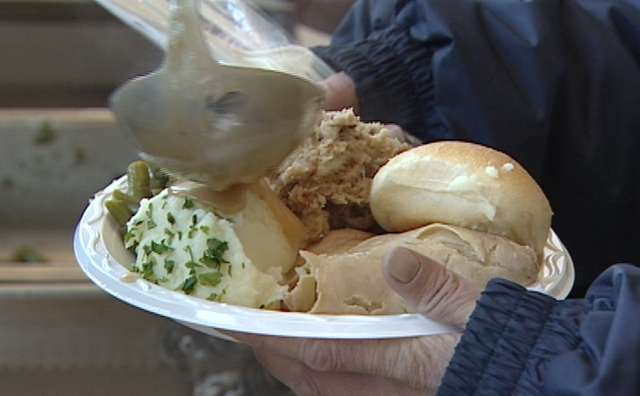 "We're really grateful for Larry Miller and the Utah Jazz and Utah Food Services for providing the EnergySolutions building today. We're figuring there's going to be somewhere between 3,000 and 4,000 people show up," said Brad Jaques with the Salt Lake City Mission.
People of all ages, some with children, appreciated the hot food and hospitality.
"I think it's great, [the] best thing you could ever do for people. Times are pretty hard out there," Tim Hollon said.
Aracely Barrera, whose family recently moved out of the homeless shelter, said, "This is a tradition for our family to go every year, and so I like being here."
But at this year's event, many missed the man who created the celebration, including his own family members.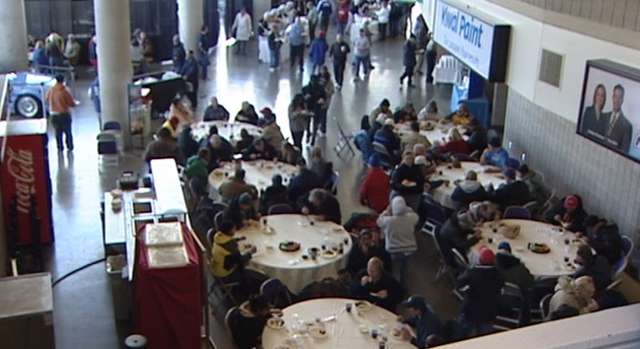 "I've been thinking about him a lot lately, and certainly when there's an opportunity like this to serve, he always comes to mind. He loved doing it. He loved the community, and I heard him say a lot of times that it's important for us to give back," said Greg Miller, Utah Jazz CEO and son of Larry Miller.
Surrounded by children and grandchildren, Larry Miller's wife, Gail, carried on a tradition she and her late husband started 11 years ago. Her son Steve Miller said, "This is just a small way that he started to give back to the community and, obviously, there's a lot of need out there. And this is just a small thing, but we're happy to do it."
Amy Williams joined Jazz players serving. Deron Williams' Point of Hope Foundation provided 1,500 of the meals.
This was the second food charity event for the Miller family this month. On Nov. 7, the second annual Drive Away Hunger event took place at Miller Motorsports Park. Organizers collected 1,500 pounds of food and 800 dollars for the Utah Food Bank. Greg Miller says there will be more.
E-mail: cmikita@ksl.com
×
Most recent Utah stories