Estimated read time: 2-3 minutes
This archived news story is available only for your personal, non-commercial use. Information in the story may be outdated or superseded by additional information. Reading or replaying the story in its archived form does not constitute a republication of the story.
Jed Boal ReportingDuring times of drought we're reminded of the critical importance of snowpack totals. Hydrologists today started building a new snow station that will measure snowpack and let people know if their community is in danger.
Building a mountaintop weather station is no simple task, especially when 30 inches of snow already blanket the ground. Today, crews with the Snotel Snow Survey loaded a helicopter with equipment and made 15 trips. They're building the station at about seven-thousand feet in Farmington Canyon.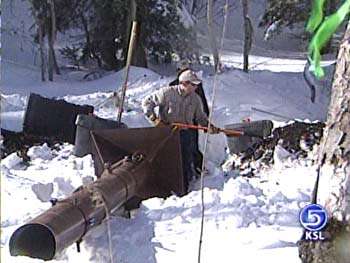 86 stations across the state give hydrologists a statistical picture of how much water Utahns will have in the spring. Automated sites transmit data hourly, older manual sites' measurements were taken three times a year.
Ray Wilson, Utah Snow Survey: "We know pretty well what the melt rates are, and the precipitation intensity throughout the year now."
The workers will level a foundation, pour concrete, attach rain gauges and put up a shelter that houses the instruments.
Ray Wilson, Utah Snow Survey: "Once we get all that done, we'll plumb it all together and put in the electronics and it should be humming away."
Certainly, it would have been a lot easier to install this station when there wasn't two or three feet of snow on the ground. But the money wasn't ready to put it in this summer.
Randy Julander, Utah Snow Survey: "It takes a while to secure the funding. It takes a while to get the permits to install a site like this."
The station measures snow depth and also the snow-water equivalent with a pillow filled with an alcohol solution that measures the weight of the snow.
Emergency money following the Farmington Fire will pay for the station. The scorched terrain is susceptible to mudslides or debris flows if there's intense precipitation or fast snowmelt run-off.
Randy Julander, Utah Snow Survey: "This particular station will help us better prepare, or at least know in advance what those conditions are."
The station should be complete in a few days.
Water managers, meteorologists and people who play in the mountains are those who use the information the most.
If you'd like to see the snowpack information, follow the link in this story.
×
Most recent Utah stories