Estimated read time: Less than a minute
This archived news story is available only for your personal, non-commercial use. Information in the story may be outdated or superseded by additional information. Reading or replaying the story in its archived form does not constitute a republication of the story.
(Kearns-AP) -- The four people involved in an alleged plot to kidnap a Kearns High School student are being charged with aggravated kidnapping.
The four who were charged are 18-year old Trenton Ginnett, 18-year old Arland Anderson, 20-year old Sean Rosenlof, and 18-year old Stephanie Jacobson.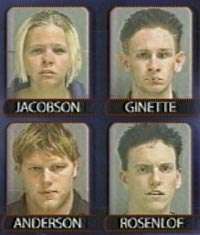 The incident happened November 12 when a 17-year old was confronted by the group in the parking lot of Kearns High School.
Police say the girl was Ginnett's ex-girlfriend. The court charges say they were plotting to kidnap the girl and take her to Mexico. The plan was foiled by a witness and two assistant principals.
The aggravated kidnapping charges are first-degree felonies that carry a sentence of five years to life in prison if convicted.
(Copyright 2003 by The Associated Press. All Rights Reserved.)
×