Estimated read time: 2-3 minutes
This archived news story is available only for your personal, non-commercial use. Information in the story may be outdated or superseded by additional information. Reading or replaying the story in its archived form does not constitute a republication of the story.
John Hollenhorst Reporting We told you about loved ones that Questar employee Larry Radford left behind when he died in a house explosion. We met another one today, a 10-year-old boy, who will always cherish his memory of the night before the house blew up. It's a touching story you'll only see on KSL.
Sometimes a tragedy will have a little twist that can be interpreted in many ways. Was it a meaningless coincidence, or a premonition of disaster? A quirk of fate or, as the people in this story believe, the mysterious workings of a higher power?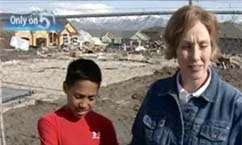 As workers put up a fence around the exploded house, a 10-year-old boy came to see the place where Larry Radford died on Tuesday.
Chandler Frischknecht, Larry Radford's son: "He was a really nice guy."
Chandler Frischknecht's Dad was Larry Radford. Chandler's mother is Jennifer Frishcknecht, who never married Radford, but speaks of him fondly.
Jennifer Frischknecht, Chandler's Mother: "It's been stated how Larry was a kind and gentle person. I really think at heart he was."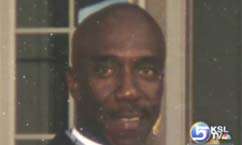 In between his two marriages, Radford fathered Chandler and had been supporting him financially.
Jennifer Frischknecht: "It had been over two years since Larry had contact with Chandler."
Radford got in touch with the boy last week. Then things drifted for a few days, until Super Bowl Sunday.
Jennifer Frischknecht: "Chandler came home and at the Super Bowl half-time he said, 'Mom, I need to call Larry. I need to call Larry. I got to see him tomorrow.'"
Chandler and his Dad went to dinner and went shopping Monday, the night before disaster struck.
Chandler Frischknecht: "I was glad to see my dad one last time."
It was a little boy's gift of fate, or something else.
Jennifer Frischknecht: "It is a tender mercy of the Lord. I think that. And the Lord knows all things. It's a very trying time. Larry had promised Chandler he would never leave his life again. And Chandler's pretty upset right now about that. But he's glad he had that last chance."
Larry Radford's funeral will be at noon Saturday in American Fork.
×
Most recent Utah stories