Estimated read time: 3-4 minutes
This archived news story is available only for your personal, non-commercial use. Information in the story may be outdated or superseded by additional information. Reading or replaying the story in its archived form does not constitute a republication of the story.
SALT LAKE CITY (AP) -- He's the first prosecution witness to use the `B' word -- for bribes -- and Alfredo La Mont is providing crucial testimony for the government's case against the two Salt Lake Olympic bid chiefs who won the 2002 Winter Games.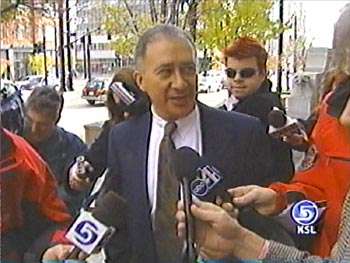 But La Mont, who was a well-connected U.S. Olympic official when he doubled as a secret Salt Lake consultant, had a web of other business and consulting deals that defense lawyers are revealing in a bid to damage his credibility. They're also suggesting he's slanting his testimony in return for leniency on a pair of felony tax convictions.
Under cross-examination Monday, La Mont acknowledged that the U.S. Olympic Committee also awarded grants to foreign Olympic organizations. USOC staffers and board members could double as consultants for U.S. bid cities, he said.
La Mont, who is the sixth of 43 declared prosecution witnesses, was being grilled Monday by defense lawyers for Salt Lake bid chief Tom Welch and deputy Dave Johnson, the two men accused of plying international delegates who award the Olympic Games with $1 million in cash, gifts and favors.
So far, La Mont has provided his most damaging testimony by saying Welch and Johnson hatched a plan to give $12,000 to Austin Sealy, an International Olympic Committee delegate from Barbados, just a month before Salt Lake won its bid in June 1995.
La Mont said he was "surprised" Welch wanted to do something as "radical" as pay Sealy so soon before an IOC vote that Salt Lake was certain to win.
"Mr. Welch and Mr. Johnson asked me to make some money available to Mr. Sealy," La Mont testified. "I couldn't offer him a bribe. He was my friend."
Instead La Mont tried to seduce Sealy with payments for a business deal, but even that failed. Sealy refused the money, though he let his son keep an initial $3,000 installment, ostensibly for agreeing to help La Mont try to sell sporting goods to Caribbean Olympic teams.
Sealy received a warning from the IOC in 1999 for his role in the Salt Lake bid scandal.
On cross-examination last week, defense lawyers attacked La Mont's credibility, his plea deal on tax-evasion charges and his double life as an Olympic consultant. La Mont acknowledged that in 1996 he even billed two competing Olympic bid cities -- Rome and Istanbul -- at once for $40,000 each. Those games were awarded to Athens.
La Mont made hundreds of thousands of dollars in the 1990s working on the side as an Olympic consultant. He had the ear of former IOC President Juan Antonio Samaranch and spoke his language, Spanish.
It all came crashing down in early 1999 after the Salt Lake scandal revealed La Mont pocketed $48,000 to help this city win the 2002 games. La Mont lost his job as international relations direction for the U.S. Olympic Committee and faced prosecution.
"I knew I had problems with my taxes from day one," La Mont told the jury.
He is waiting sentencing for his March 2000 guilty plea to felony tax fraud. The government has promised to recommend leniency in exchange for his testimony.
"The dread that I have had for many, many years now, day and night, is that there's a strong possibility I'll go to jail," La Mont said. "I'm keeping my fingers crossed (hoping) that things will work out for me."
(Copyright 2003 by The Associated Press. All Rights Reserved.)
×
Most recent Utah stories