Estimated read time: 2-3 minutes
This archived news story is available only for your personal, non-commercial use. Information in the story may be outdated or superseded by additional information. Reading or replaying the story in its archived form does not constitute a republication of the story.
Ed Yeates ReportingUtah is apparently the only place in the world able to give a New York surgical team a piece of equipment it needs to separate conjoined twin boys from the Philippines.
As surgeons looked at CT and MRI scans of the conjoined twin boys from the Philippines, they wanted a piece of hi-tech that only one place in the world could provide. Inside a clean room, equipped with laser technology, a Utah company took all of the scans and reproduced them into holographic images.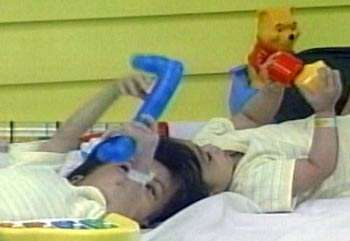 The New York surgical team now has a true three-dimensional view of the twins in true three-dimensional space.
Daniel Burman, CEO, Voxel Inc: "So all the vessels, all of the bone are in exact three dimensional space that the surgeon will expect to see as he goes into the surgery."
It is called the Voxbox Display. This is what surgeons from New York City are using right now as they continue separating the twins. The holographic images show intricate detail of the twins. And as they're moved for various parts of the surgery, so moves the hologram.
Daniel Burman, CEO, Voxel Inc: "They are also able to flip the film over, 'cause the hologram is exactly as the patient was scanned and shows the complete three dimensional view. If you turn it over you see the other side of the image as if you are looking right through the patient."
The technology is so new, the US patent office at first rejected the application, saying textbooks called it impossible.
Stephen Hart, Inventor, Voxel, Inc: "Fortunately, I didn't know that and I had gone ahead and done it anyway and found ways around the problem. Without even knowing the problems people had encountered."
The Utah company now holds ten US patents on this new hi-tech people said couldn't be done.
Utah based VOXEL is donating all its time and equipment, as are the New York surgeons and medical team separating the twins.
×
Most recent Utah stories