Estimated read time: 2-3 minutes
This archived news story is available only for your personal, non-commercial use. Information in the story may be outdated or superseded by additional information. Reading or replaying the story in its archived form does not constitute a republication of the story.
Sandra Yi ReportingEvery hour a Utah student is injured at school. That's according to a new report released by the state health department.
The report shows a lot of kids are getting seriously hurt and their injuries could have been prevented. The state health department received more than 30 thousand reports of children, who were injured at school between 1997 and 2002. The school playground is one of the more dangerous places for younger kids.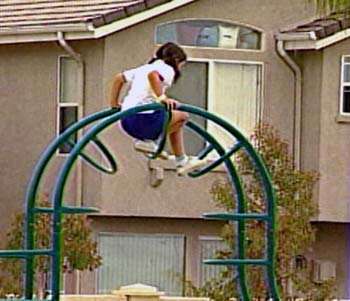 Cyndi Bemis, Utah Dept. of Health: "When you count 33 thousand over the course of five years, that's a lot of injuries."
Among the findings:
Every hour a student is hurt at school.
Every four hours, a student sustains a fracture or possible fracture.
Every day a student gets a possible concussion.
And every five days a student is hospitalized because of a school injury.
Also, boys are hurt more often than girls.
Cyndi Bemis: "These are injuries that keep a child out of school for at least half a day and require treatment by a doctor, so they are serious. They cost a lot of money and they keep kids out of school so they're not getting the education that they need."
Bemis says younger kids are hurt more often on the playground. For older kids gyms and athletic fields are the most dangerous areas. Classroom injuries, in shop class, for example, are also common.
Shane Fackreoo, High School Student: "Every once in a while, you'll be walking and you'll see people fall, trip down the stairs or just walking up the stairs."
Lynn DeMill, Bingham H.S. Teacher: "Most of the accidents I see is related to athletics, during ball games or practices. Whether it be a shoulder from hitting the ground from a tackle or a twisted ankle or knee."
The health department says schools are safer now than they were five years ago. Still, a spokesperson says more can be done to keep kids safe. She believes only half of school injuries are ever reported.
Cyndi Bemis: "Kids sometimes can be their own worst enemies. They're playful, they're energetic, they're risk takers."
Bemis says parents should talk to their kids to respect their peers. Athletes should also warm up before playing. She also says teachers should spread out during recess so that they can keep an eye on all kids.
×