Estimated read time: 2-3 minutes
This archived news story is available only for your personal, non-commercial use. Information in the story may be outdated or superseded by additional information. Reading or replaying the story in its archived form does not constitute a republication of the story.
Jed Boal reporting It was a scene, right out of "Lassie." But, it was real. And, it may have saved the life of a Davis County woman.
Andrea Woodmansee and her pal Ace shared a life-threatening tumble...and lived to tell the tale.
They light up for each other...and clicked when the border collie/cocker mix first arrived at this North Salt Lake animal hospital with a broken leg early last month.
Andrea Woodmansee/Crash Survivor: "We definitely have had a good bond, and now it's even more so."
Andrea took Ace home with her...and agreed to take care of him while he was recuperating.
One night three weeks ago, the two were in her car, on an errand...but, never made it.
Andrea Woodmansee/Crash Survivor: "I love this dog. I'd do anything for this dog...obviously he'd do a lot for me too."
It was raining heavily that night and Andrea lost control of her car on 89 south. She flipped over the railing, down the embankment. It threw both Andrea and Ace out of the car. While Andrea lay there unconscious, Ace was able to scramble up this embankment and catch the attention of some passing motorists."
Andrea Woodmansee/Crash Survivor: "Started barking at people to come down and see that I was down there. He's a good dog like that."
Andrea was rescued with broken ribs and collar bone. She remained unconscious two weeks and does not remember the crash. Ace climbed that hill with a broken leg...and broken back.
Andrea Woodmansee/Crash Survivor: "What kind of dog is like this one? With a broken back, hikes up a hill? I definitely think he's my hero."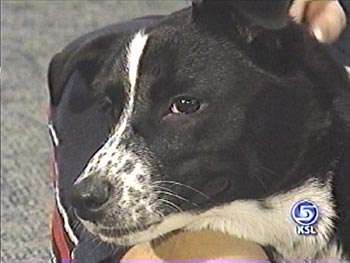 Ace obviously has a permanent home now with Andrea...both will be heading there in the next few days.
Andrea is a Junior at Woods Cross High School...she'll likely return to class in January.
×
Most recent Utah stories