Estimated read time: 1-2 minutes
This archived news story is available only for your personal, non-commercial use. Information in the story may be outdated or superseded by additional information. Reading or replaying the story in its archived form does not constitute a republication of the story.
Carole Mikita ReportingMain Street has been renamed, but it's only temporary and it's all about celebrating the New Year. In honor of Salt Lake's First Night Celebration, Mayor Rocky Anderson unveiled 'Electric Avenue' today.
The new title is only temporary, through January 1st, but the mayor says it speaks of lighting up the night.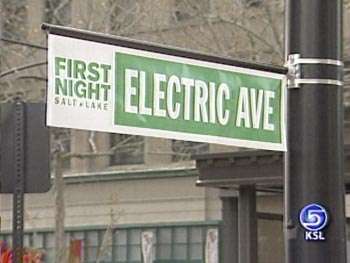 In year's past 60-thousand people have participated and the entertainment has included a cast of thousands. There are 150 communities throughout the U.S. holding First Night celebrations; Salt Lake City's is the second or third most successful.
Along with the festive lights this year, visitors will also see and participate in dance. And to promote those performances Movement Forum, an improv troupe from the University of Utah, gave us a hint of its vision. So did two hearty belly dancers who went beyond the call of duty considering today's temperature.
Bob Farrington, Downtown Alliance: "You can dance the night away in just about any fashion possible -- from tango to limbo, disco to mambo, swing to hip-hop, belly dancing to line dancing."
Lane Beattie, SL Chamber of Commerce: "First Night is one of those great occasions that brings us together from all over the state of Utah in a way that we can all enjoy."
Tickets and buttons went on sale today. They're $7 before Jan. 1st, $10 dollars that day. They will get you into performances and activities throughout the downtown area.
×
Most recent Utah stories