Estimated read time: 2-3 minutes
This archived news story is available only for your personal, non-commercial use. Information in the story may be outdated or superseded by additional information. Reading or replaying the story in its archived form does not constitute a republication of the story.
Ed Yeates ReportingA young adult in Utah is the latest victim of the flu; no further details on the patient's identity are being released. Meanwhile, the Health Department today released its latest numbers on influenza.
The count is up to 3,068 and still climbing. But that's only the official count. The actual number of sick people out there is much higher.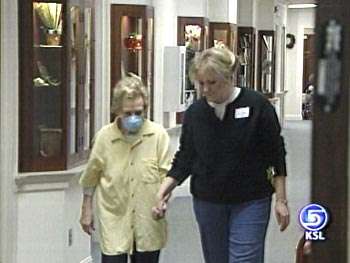 Since two of the three deaths involve older people many extended care centers are now taking extra precautions to control the spread of illness. Elderly residents in some facilities who have sniffles, coughs or colds are required now to wear masks. Nurses and staff in the centers do the same to keep themselves healthy.
Furniture, countertops and doorknobs are routinely wiped down with disinfectants. And of course, hand washing. It's all an effort to reduce the spread and severity of illness.
Gia Osmus, Health Coordinator, Silverado Center: "Fortunately, all of our swabs have come back negative. We do not have influenza. But we do have some upper respiratory infections."
Meanwhile, the State Health Department today announced it will adopt the CDC guidelines on who will get what little flu vaccine is left. As we reported yesterday, the remaining vaccine will go to adults over age 65, healthy children between six and 23 months of age, people with chronic illnesses, pregnant women, and those who work with or are in close contact with high risk people.
Agencies giving shots today were already following those guidelines. The State Health Department is also asking businesses, schools and churches to cooperate now in allowing Utahns to practice "practical" prevention measures to keep others from getting sick.
That includes encouraging sick people to stay home from work, school and church and away from social gatherings, restaurants and shopping centers.
Scott Williams, M.D., Executive Dir., State Health Department: "We're especially encouraging businesses and schools to review their policies about sickness, and make sure their policies are supportive of allowing people to stay home when they're sick during this outbreak."
Most importantly, if you feel ill, do not visit family or friends in the hospital or a nursing home. Instead of handshaking during the holidays, Dr. Williams suggests we may want to just say hi with a hand wave.
Incidentally, as bad as the flu is right now, in actual numbers, we still haven't reached where we were during the 1999-2000 flu season.
×