Estimated read time: 2-3 minutes
This archived news story is available only for your personal, non-commercial use. Information in the story may be outdated or superseded by additional information. Reading or replaying the story in its archived form does not constitute a republication of the story.
Jed Boal reporting The Christmas rush is on! And rush means something just a little different to everybody.
Work crews are rushing to tidy up the streets in Salt Lake City, and help the environment.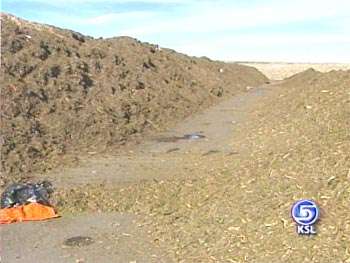 At the Salt Lake Valley landfill, there are massive mounds of mulch, the end product for a process that starts in our yards.
All of that compost can go back in our yards and gardens, rather than taking up valuable space in the landfill. If you haven't raked the leaves yet, it's too late.
If you still have bags on the curb, crews are coming.
This fall, leaf pick-up took longer than planned in Salt Lake. Early snowfall set the schedule back.
The leaf crews want to finish with these before Christmas, so they can shift to Christmas tree collection, and focus on plowing when it snows."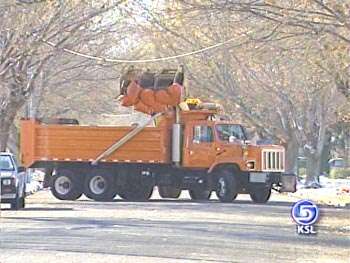 They truck the leaves to the landfill. There have been nearly 900 truckloads from Salt Lake City and County this fall, nearly 1900 tons of leaves. Workers dump the leaves and pitch the plastic.
Tim Edinger/Composting Specialist: "After they take all of the leaves out of the bags, we run them through our grinder"
That's "hogzilla"...capable of chewing up leaves, lawn matter and Christmas trees...and spitting it all out
Workers pile the crushed compost into these wind rows, mix in fertilizer, water the mulch, and turn the piles every two weeks.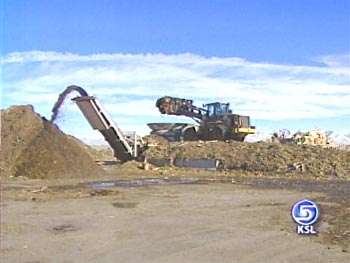 Tim Edinger/Composting Specialist: We can do that all in one day, debag them, run them through the grinder, and into the wind rows to start the process."
Jill Fletcher/Recycling Information Officer: "It's recycling a natural resource and going back into the earth after it's been recycled."
After 90 days, the organic matter is ready to sell and very popular during the drought.
Tim Edinger/Composting Specialist: "That is then put into people's yard and gardens to retain moisture and keep the leaves down."
Here's something fascinating: While the air temperature hovered around 30, the temperature inside the rows today averaged 134-degrees. More than 100 degrees hotter. The decomposition process creates that energy and heat.
×
Most recent Utah stories