Estimated read time: 2-3 minutes
This archived news story is available only for your personal, non-commercial use. Information in the story may be outdated or superseded by additional information. Reading or replaying the story in its archived form does not constitute a republication of the story.
Sam Penrod reportingAn accident on I-15 near Point of the Mountain killed five people and left three others in critical condition.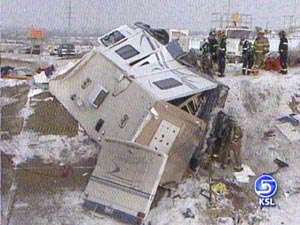 All are members of a family from Washington State. They were traveling in their motor home, the only vehicle in the accident.
It was a sad and depressing scene for rescue workers called to an accident involving young children.
The 30- foot motorhome they were riding in plunged off of the freeway. At one point troopers say it was airbourne as it fell between the two overpass bridges and slammed into the cement below.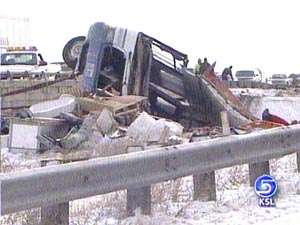 Investigators believe that it is likely that strong winds coming off the point of the mountain literally blew the motorhome off the freeway, causing the driver to lose control.
Lt. Steve Myer/ Utah Highway Patrol: "The factor we are showing now is we've got high winds. This large profile motorhome went into the median, right into the structure over SR 140. As it went through the guardrail into the median, slid in between the two structures. Of course it is open down to the roadway below."
The severity of the accident killed five people instantly, critically injured three others.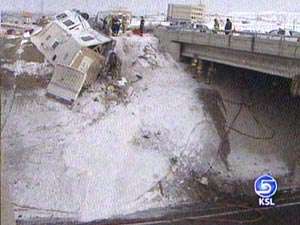 Those who survived were airlifted to trauma centers.
Investigators are still looking to see if the driver and passengers were wearing seatbelts.
What makes this so sad is that it appears this involved one family-- the parents and their children ages 18, 14, 9, 7, 6, 4 and five months.
The family is from Washington State. It is unknown if the family had been in Utah, or was just passing through.
The Associated Press reports the family is from West Richland, Washington--that's in the Tri-Cities area.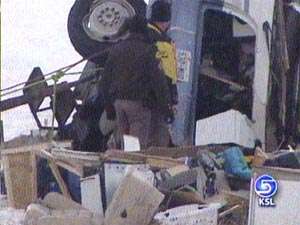 Those killed include the father, a five month old boy, a four year old girl, a six year old girl, and a seven year old boy.
Those reported in critical condition include an adult female, an 18- year old girl and an eight year old boy.
A 14- year old boy and nine year old boy are listed in fair condition.
×