Estimated read time: 2-3 minutes
This archived news story is available only for your personal, non-commercial use. Information in the story may be outdated or superseded by additional information. Reading or replaying the story in its archived form does not constitute a republication of the story.
DRAPER, Utah (AP) -- Investigators said high winds may have played a role in the weekend crash of a motor home that killed several members of a Washington state family.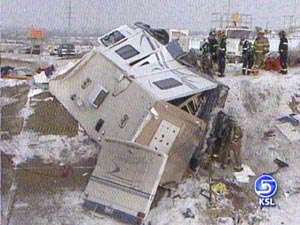 The father, who was driving, and four children were killed instantly Sunday when the vehicle went off Interstate 15 in Draper, south of Salt Lake City. The family's mother died later Sunday in a hospital of her injuries, Utah Highway Patrol spokesman Chris Kramer said.
Four other children survived the crash, but one of them was in critical condition Monday at Primary Children's Medical Center in Salt Lake City, Kramer said. The family is from West Richland, Wash.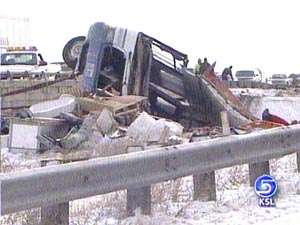 The dead were identified as the mother, Margerie Mattila; Max Mattila, 7; Katie Mattila, 6; Marci Mattila, 4; and Adam Mattila, 5 months. The name of the father, who was believed to be in his 40s, was not released.
Survivors were Brent Mattila, 12, who was in critical condition; Misty Mattila, 18; Jordan Mattila, 14; and Shane Mattila, 9. Shane and Jordan were released from the hospital Sunday.
It's not known why the vehicle left the road, but investigators said high winds from the snowstorm that buffeted the region over the weekend may have been a factor. Investigators had initially ruled out weather conditions, and specifically wind, as a cause.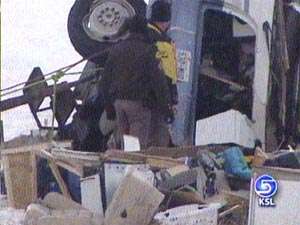 But high winds re-emerged as a focal point Monday. There were no skid marks to indicate the driver tried to stop abruptly.
"It's still under investigation, but high winds may have played a factor in it," said Kramer.
The motor home was traveling northbound on Interstate 15, about 20 miles south of downtown Salt Lake City, Sunday afternoon. The vehicle went into the median, through a guard rail and then went airborne for about 100 feet before crashing nose first on the highway below.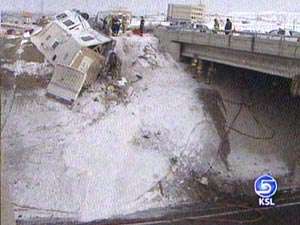 "It basically skidded back up the cement structure and ended up basically between the two freeways back up on top," Patrol Lt. Steve Meyer said.
Salt Lake City saw about 18 inches of snow fall between Christmas Day and early Sunday, but the interstate was clear and dry at the time of the accident.
The vehicle was visibly bowed from the crash.
Contents of the white motor home with blue trim -- including a microwave oven, a collapsed sofa and a small refrigerator missing its door -- were heaped in a pile on the Interstate 15 median before being heaved into a waiting trash bin.
Interstate traffic in both directions were backed up for miles for about two hours following the accident.
(Copyright 2003 by The Associated Press. All Rights Reserved.)
×
Most recent Utah stories