Estimated read time: 2-3 minutes
This archived news story is available only for your personal, non-commercial use. Information in the story may be outdated or superseded by additional information. Reading or replaying the story in its archived form does not constitute a republication of the story.
Ed Yeates ReportingDan and Loretta Garcia have brought their family from Texas to Utah for the next three days so their 10-year old son can fulfill a most unusual wish.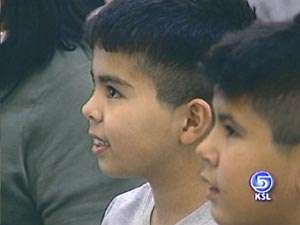 As of tonight, The Garcia's from Kingsbury, Texas have become the first family to have a wish come true in the Make A Wish Foundation's new "Wishing Place" here in Murray. Ten year old Justin Garcia has an abnormal mass of blood vessels growing in his brain. The condition is inoperable. His final wish: To see eagles in the Rockies in the winter.
Even though this wishing place is yet to be completed, in this room on this night - with the help of Tracy Aviary - Justin came eye to eye with his dream. Why the eagle?
Justin: "Because they can see miles away."
Loretta Garcia, Justin's Mom: "Because the eagles stay focused, looking straight ahead and they see so far away."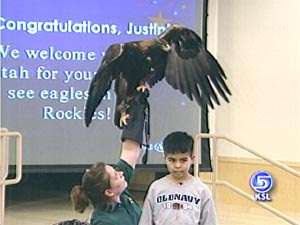 For Justin and his family, this bird of prey has become symbolic of something religious, almost mystical. Like the fantasy of Lord of the Rings, the eagle symbolizes strength and bravery, yet enough gentleness to perhaps carry Justin to far away places.
Loretta Garcia: "And coming to the Rocky Mountains and seeing the eagles was a closer way that he was going to get to God and he was going to reach God."
12-year old Jacob Garcia, who's become very close to his brother, says the wings of this magnificent bird represent many things to Justin. But in particular..
Jacob Garcia: "In the eagle, like, it's an angel."
Justin engraved a star as other 'Make A Wish' kids will do in this new center. It was raised high above the foyer where it will stay forever. But the height he flew tonight - in his own mind - is something the Garcia's will never forget.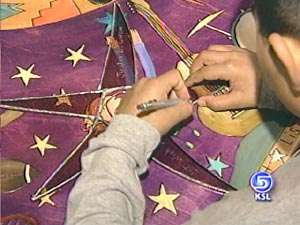 Justin's visit with the eagles is not over yet. Tomorrow he goes to Tracy Aviary to see other eagles. And Thursday, he travels to a bird sanctuary to see them fly with no restraints.
×
Most recent Utah stories