Estimated read time: 2-3 minutes
This archived news story is available only for your personal, non-commercial use. Information in the story may be outdated or superseded by additional information. Reading or replaying the story in its archived form does not constitute a republication of the story.
Kimberly Houk ReportingThe heavy fog and cold made it tough for firefighters working three early morning fires in the Salt Lake Valley.
Investigators say two of the fires were caused by people falling asleep while smoking in bed. And the other fire investigators are calling suspicious, because officials say the four-plex located at 36th South and 18th West went up in flames after someone threw a flaming bottle through the back window of a car.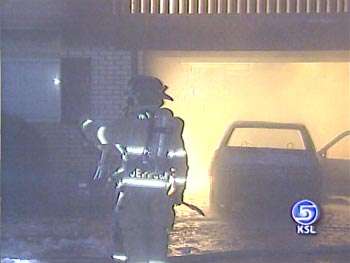 The blaze started with a loud bang waking up everyone. Sleepy neighbors jumped into action, running outside with containers full of water.
Brad Cox, Witness: "The car was engulfed in flames. We tried putting it out the best we could. It wasn't working."
When crews arrived the blaze was roaring. Firefighters did get it under control with the water supply on their truck. After running out of water, they tied a hose into nearby hydrant, but the hydrant was broken, and the flames took off again up the side of the house.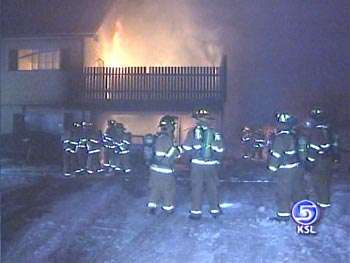 It took several minutes for firefighters to find a hydrant that worked. Officials say property owners are responsible for testing their hydrants. They're now investigating why it wasn't working. When fire hydrants are on private property, officials say it is the property owner's responsibility to get the hydrants tested once a year to make sure they work properly.
A 49-year old woman is in critical condition after jumping through a window to get out of another burning home in Rose Park. Just before two this morning a family woke up to shooting flames. It took firefighters two hours to put the flames out. They say that fire started after a woman fell asleep while smoking in bed.
Investigators say smoking in bed also caused a motel room at 7263 S. 440 W. in Midvale to burn. Crews arrived around midnight and found flames pouring out of a window. Two rooms were damaged and five units were evacuated.
Capt. Jay Thomas, Midvale City Fire Dept.: "On these cold fires, obviously it really drains our resources and it's physically demanding in these temperatures. So we usually always try to bring in a little extra help."
×
Most recent Utah stories