Estimated read time: 2-3 minutes
This archived news story is available only for your personal, non-commercial use. Information in the story may be outdated or superseded by additional information. Reading or replaying the story in its archived form does not constitute a republication of the story.
Sandra Yi reporting Personal letters from a Utah soldier killed during 'Operation Iraqi Freedom', have been published in a national magazine.
Staff Sergeant James Cawley was from Layton. He was the first Utah soldier, to die in the war.
James Cawley was killed 10 days into the war with Iraq.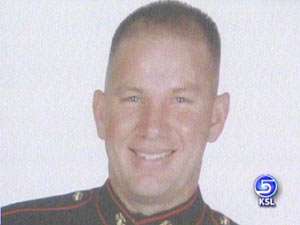 While at battle, his family, especially his 2 young children, were always in his thoughts, as revealed in his 'Last Letters Home'.
Julie Hanson: "When I wrote this, you were still a little boy."
It's the last letter, written by a father to his son... loving words, for a young boy and his sister.
Julie Hanson: "You two are the lights of my life and i have known no greater joy than in the few years since you two were born."
Staff Sergeant James Cawley was Utah's first casualty in the Iraqi war. He died in a Humvee accident, on March 29th of last year. He left behind a wife and 2 children.
Julie Hanson James Cawley's Sister: "We just felt that James' legacy has been left through letters."
Cawley left behind letters for his son and daughter. He also sent his sister an email: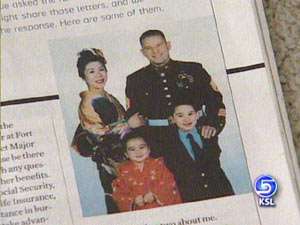 'I am sure I'll be fine', he wrote, 'I don't plan on getting killed, but you never know, so just in case I don't come back, I have just a few things I need to pass on'.
Those few things were funeral arrangements. Julie Hanson says her brother had a foreboding feeling, he would not be coming home alive.
Julie Hanson: "I was just chilled through to the bone as i read it."
Cawley's letters to his sister, his then 8 year old son, and a postcard to his family are published as part of an 'Esquire Magazine' article titled, 'Last Letters Home'. His family received that postcard, 2 days after his death.
Julie Hanson: "It's a very hard thing to do, to share something so personal, and so it's very bittersweet."
Hanson says, those letters are a part of history that needs to be told.
Julie Hanson: "The nation needs to remember this sacrifice that's been made in their behalf."
It's a sacrifice made by a soldier, and a father.
Julie Hanson: "I will be waiting impatiently for the time when we can be together agian. All my love,Dad." The article is featured in the February issue of 'Esquire Magazine', which is due out sometime this month.
James Cawley is the only person featured with more than one letter.
×
Most recent Utah stories