Estimated read time: 3-4 minutes
This archived news story is available only for your personal, non-commercial use. Information in the story may be outdated or superseded by additional information. Reading or replaying the story in its archived form does not constitute a republication of the story.
SALT LAKE COUNTY -- In Utah's largest county, health officials say they've seen the peak of the latest wave of H1N1 flu.
For the third week in a row, county health officials say they've seen a decrease in hospitalized cases and flu-like illness. The county's top health leaders joined Salt Lake County Mayor Peter Corroon to give an update.
| Seasonal Influenza | Influenza Pandemics |
| --- | --- |
| A public health problem each year | Appear in the human population rarely and unpredictably |
| Usually some immunity built up from previous exposures to the same subtype | Human population lacks immunity |
| Infants and elderly most at risk | All age groups at risk, including healthy adults |
The latest numbers from the health department show emergency room visits and school absenteeism -- both important indicators for flu -- are dropping in the Salt Lake County. Medical Director Dr. Dagmar Vitek says, "We hope that it's going to go down but, at this point, we really can't predict it because now we're going to introduce seasonal influenza into the mix, so it's pretty unpredictable how the winter is going to look like."

Dr. Vitek cautions, however, against being too optimistic about the numbers. She explains flu illnesses tend to come in waves, so while we have peaked for the second wave to it Utah, it doesn't mean we won't have a third or even a fourth wave later on.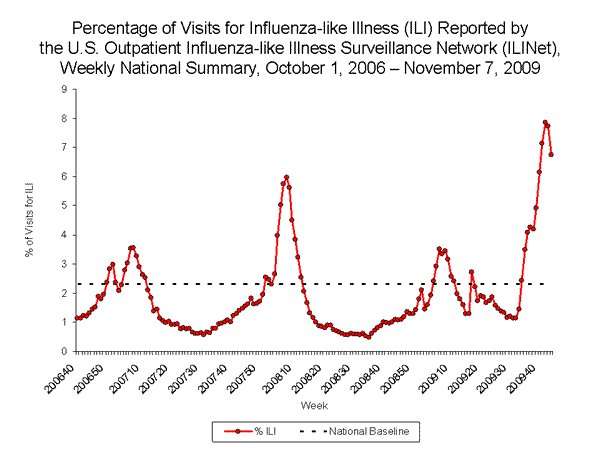 Corroon says, "We want people to remain vigilant. We want people to get vaccinated if they haven't already done so, and we want them to take those precautionary measures, like coughing into your sleeve, staying home if you're sick, washing your hands, using the alcohol on your hands as well, whatever it takes to maintain that safety."
Still, they expect many people to get some serious illness, and there likely will be others who will die from H1N1 this year.
Since Sept. 1, seven people in Salt Lake County have died and 212 have been hospitalized due to the H1N1 virus and related complications. About 70 percent of hospitalized cases involved underlying medical conditions.
Health officials are emphasizing that people continue to get vaccinated, particularly those in the priority groups which include:
Pregnant women
People who live with or care for children younger than 6 months of age
Health care or emergency medical personnel with patient contact
Children age 6 months to 24 years of age
Persons 64 years of age and under with chronic medical conditions associated with higher risk of medical problems from influenza
The Salt Lake Valley Health Department says it will continue to distribute the vaccine as soon as it comes in.
------
Compiled with contributions from John Daley and Becky Bruce
×
Related links
Most recent Utah stories