Estimated read time: 2-3 minutes
This archived news story is available only for your personal, non-commercial use. Information in the story may be outdated or superseded by additional information. Reading or replaying the story in its archived form does not constitute a republication of the story.
Jed Boal ReportingThe Governor has declared this a historic day in settling one of the longest-running battles in the state. And if a new process to resolve disputes over rural roads works, she could be right.
This could be a turning point in the battle over balance on BLM lands in Utah and what land will be eligible for wilderness designation. For decades counties have fought with preservationists over the definition of a legitimate road; now there's a new process in place.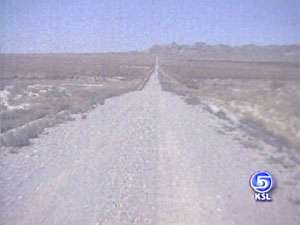 The governor today handed the BLM an application for the right-of way on the Weiss Highway in Juab County. The application is a trial balloon that will test the process, but won't truly test the criteria for a legitimate road.
Governor Olene Walker: "This hasn't happened before; this is history. Never before had the opportunity to hand an application to the BLM. To start the process of defining who owns the roads."
The road runs across BLM land; the state and county want to settle who owns it. The state and counties have fought with the BLM and preservationists over thousands of roads, two-track and trails, but before he left Utah, Governor Leavitt and the Interior Department came up with some common sense criteria for a county road on federal land.
Sally Wisely, BLM State Director:" We have the opportunity to move forward in what has been a pretty contentious issue."
There are still legal battles over earlier claims and more will follow as the state submits county claims that test the definition of a road.
Governor Walker: "We think it's an end to the fight and the beginning of a process."
Preservationists hope the governor will use her leadership to make sure only legitimate real claims are submitted.
Heidi McIntosh, Southern Utah Wilderness Alliance: "It's not really about roads or transportation; it's about the future of these public lands. And we have some of the most beautiful public lands in the world."
Preservationists won't dispute this application; this road is obviously a road. But there are many claims ahead that will test the criteria and determine whether this fight is truly over.
×