Estimated read time: 2-3 minutes
This archived news story is available only for your personal, non-commercial use. Information in the story may be outdated or superseded by additional information. Reading or replaying the story in its archived form does not constitute a republication of the story.
Sam Penrod ReportingThe case of a basketball star with a fondness for tattoos has touched off a debate on the BYU campus.
A report in a Salt Lake City newspaper suggests the school altered a picture of the player in a media guide to remove the tattoos. BYU, claims that's not true, there's no scandal, and certainly no "cover-up."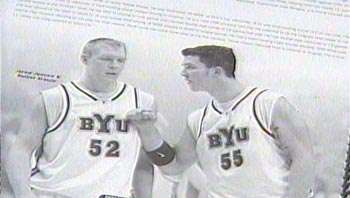 Tattoos are a touchy subject at BYU and in the journalism world, being accused of doctoring photographs is touchy too. So the school today is saying it is important to set the record straight.
Rafael Araujo is one of BYU's star basketball players and the tattoo's on his arms stand out on a team where tattoos are unusual. But a photo of Araujo in the BYU media guide, which is sent out to sports journalists across the country, is tattoo free. That prompted an article in today's Salt Lake Tribune pointing out what the article calls a doctored photo.
Not true says BYU.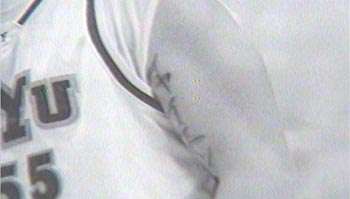 Duff Tittle, BYU Athletics Media Relations: "All the photos are clean and that image was obviously from a game in the conference tournament earlier in the year, prior to the tattoos that he got this summer. The photo wasn't doctored in any way."
In fact, Araujo along with his tattoo is on the front cover of the media guide, which was produced last summer. The guide features several other photos of Araujo and other BYU players where tattoos are clearly visible.
Tittle admits BYU used the photo of Araujo in the media guide and turned it into a silhouette to create this poster listing a schedule of BYU's games this year. And that's where the miscommunication may have occurred during the telephone interview with the Tribune Reporter.
Duff Tittle: "There have been times when we are doing advertising pieces or marketing pieces, schedule cards, posters, were we will take a tattoo out if we feel the tattoo has become too much of a focal point of the poster."
But BYU says there's a difference between altering photos that are given to the news media and those used in marketing the team.
Duff Tittle: "I don't think there is a publication department in the country that doesn't change photos, cleaning them up and things like that."
There is no mention of tattoos in BYU's honor code or dress and grooming standards. However, BYU says it strongly discourages students from getting tattoos while they are enrolled in the University.
×
Most recent Utah stories