Estimated read time: 2-3 minutes
This archived news story is available only for your personal, non-commercial use. Information in the story may be outdated or superseded by additional information. Reading or replaying the story in its archived form does not constitute a republication of the story.
Kimberly Houk ReportingHighway Patrol troopers were busy today dealing with the effects of this nasty temperature inversion. Slick roads are making driving hazardous, especially on the west side of the valley.
One of of several accidents this morning was fatal for a 44-year old Midvale woman. The fatal accident happened just before 5 o'clock this morning at 38th West and 21st South. Police say the driver was east bound on 21st South when she lost control of her car. She crossed over the median and headed straight for a UTA bus traveling west.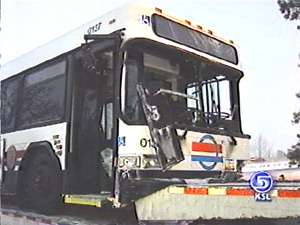 Dustin Jones, UTA: "All of a sudden there were headlights in front of him. He swerved to move out of the way and unfortunately it was too late. The car struck him head on. It busted out the windshields and did a lot of damage to the bus."
The bus driver was alone on the bus. He was not injured. But police say 44-year old Sydni Zombro of Midvale, the driver of the car, died immediately.
Sgt. Phil Waters, Utah Highway Patrol: "Fatigue could be a factor. The road surface is a factor, it's slick. And the condition of the car with the bald tires. It doesn't appear that speed is a factor."
Troopers say the heavy fog affects the west side of the valley the most. From lake effect to the airport seeding the clouds, it all contributes to slicker roads.
Michael Bennett, Utah Highway Patrol: "I'd say in 99% of the crashes we investigate there is driver error. With the conditions the way they are right now, people not slowing down is our biggest issue."
Airport officials say they work closely with UDOT to make sure the roads are pre-treated before they seed the clouds. But troopers say when temperatures are low, the roads will still ice over.
Michael Bennett, Utah Highway Patrol: "They do what they can to treat the roadways, but it still collects, especially on the structures and the overpasses."
The airport started seeding the clouds earlier this week. And officials say the icy road conditions have contributed to several accidents this week.
Michael Bennett, Utah Highway Patrol: "Following distance needs to be increased and the speeds need to be lower. That way you will get to work and you'll get home to your loved ones. Unfortunately that did not happen for a family this morning."
This morning's fatal accident shut down 21st South to both east bound and west bound traffic for three hours. Troopers are still investigating the cause of the accident.
×
Most recent Utah stories