Estimated read time: 2-3 minutes
This archived news story is available only for your personal, non-commercial use. Information in the story may be outdated or superseded by additional information. Reading or replaying the story in its archived form does not constitute a republication of the story.
SALT LAKE CITY (AP) -- The Utah Legislature opened its 2004 session on Monday with Gov. Olene Walker expressing optimism in the state's economy, which is showing signs of recovery for the first time in three years.
The rebound could make it easier for lawmakers to put together a state budget for the fiscal year starting July 1.
"Quite frankly, the revenue picture looks better now than when I had to do my budget," Walker said Monday in a Capitol hallway.
Walker submitted an $8 billion budget plan to the Legislature last month that would increase overall spending by 3.4 percent for the next fiscal year. She said she was standing by her plan to boost public education spending by nearly $116 million.
Walker, 73, predicted her relations with legislators would be cordial despite grumbling about her spending proposals.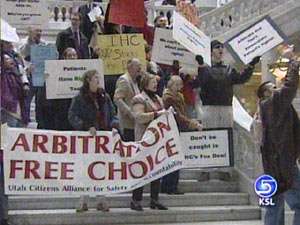 "Listen, I've worked with these guys for years, men and women. They're a great group. But I can be tough when I want," said Walker, a former legislator and lieutenant governor to Gov. Mike Leavitt. She automatically succeeded him last November when he became head of the U.S. Environmental Protection Agency.
The Utah House of Representatives and Senate each opened the session with ceremonial prayers, the Pledge of Allegiance, introductions and other pleasantries. A choir entertained the House.
The Legislature planned to take 15 minutes to observe the Martin Luther King holiday, then hear an afternoon State of the Judiciary address from chief Utah Justice Christine Durham before adjourning until Tuesday.
Walker will deliver her State of the State address Thursday evening.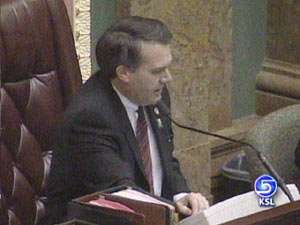 House Speaker Marty Stephens, R-Farr West, delivered a speech quoting Thomas Jefferson and emphasizing themes of freedom and liberty -- and announced this would be his last of 20 years in the Legislature.
Stephens is part of a crowded field of Republican candidates running for governor, a race complicated by Walker's silence on whether she will seek election. She doesn't have to announce until March.
Democrats plan to tap University of Utah law school dean Scott Matheson Jr., a son of former Gov. Scott Matheson, as their candidate.
(Copyright 2004 by The Associated Press. All Rights Reserved.)
×