Estimated read time: 2-3 minutes
This archived news story is available only for your personal, non-commercial use. Information in the story may be outdated or superseded by additional information. Reading or replaying the story in its archived form does not constitute a republication of the story.
LAYTON -- A house fire in Layton displaced a family and caused thousands of dollars in damage Saturday.
Fire investigators said it started near the chimney flue in the attic. They said the insulation was too close to the hot pipe and caught fire -- a problem that could become more common as the winter sets in.
The house, located near 1500 North and Cherry Lane, was declared unlivable. The cost of the damage to the home was estimated at $85,000.
"The past two days we've had two fires -- chimney fire-related -- so this is a concern to us right now," said Doug Bitton with the Layton City Fire Department.
The concern was the fire's origin.
"This vent pipe has a lot of white impingement marks right here," Bitton said.
Bitton investigated for Layton City Fire and said the white marks show where the insulation ignited.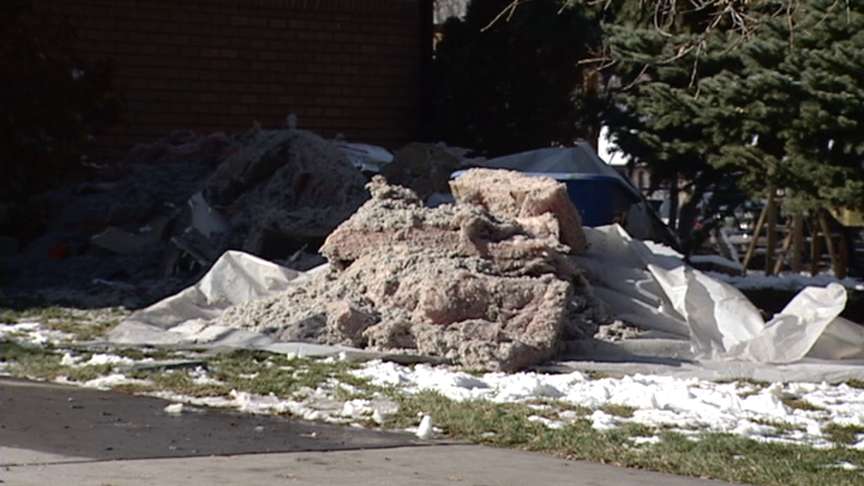 The homeowner had cellulose insulation blown in this spring, thinking it would save energy and money. Just the opposite happened, however.
The family lit their wood burning stove around 4 p.m. Saturday. By 8:00, they knew something was wrong.
"First the electrical went off in the family room, which surprised them, and then they saw a different haze -- color of light -- out the rear of their home," said Bitton.
They evacuated just in time for crews to start their work on the attic. The fire spread through the insulation, so they had to remove most of it.
An hour later the fire was out, and the family was forced out as well.
Bitton said all families need to check the clearance between their flues and the insulation. Most building codes recommend 1 to 2 inches of space, depending on the pipe.
The U.S. Department of Energy suggests putting in a clearance dam or a protective sleeve.
"We don't want any radiant heat hitting this type of cellulose insulation that could cause a possible combustion," said Bitton.
Bitton said local code officials can help people make the right adjustments.
E-mail: ngonzales@ksl.com
×
Photos
Related links
Most recent Utah stories