Estimated read time: 1-2 minutes
This archived news story is available only for your personal, non-commercial use. Information in the story may be outdated or superseded by additional information. Reading or replaying the story in its archived form does not constitute a republication of the story.
Kimberly Houk ReportingTracking moose through the streets of Salt Lake City is becoming a daily routine for wildlife officials. Another moose was on the run along the east bench this morning.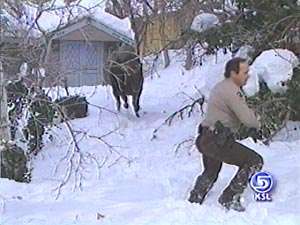 This moose gave officials quite the chase. Division of Wildlife Resources cornered it and just as they were about to shoot it with a tranquilizing dart, it took off running. They caught up with a half hour later; it was hiding in the backyard of a home.
The moose turned aggressive when Scott White of the Division of Wildlife Resources trapped him in the backyard.
Scott White, Division of Wildlife Resources: "It was basically cornered in the backyard with a six foot wooden fence. It basically had no where to go except through us and that's what they're going to do."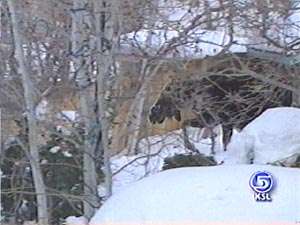 It took two tranquilizing darts to put the moose out. Next came the hard part; seven guys lifted the 900 pound bull moose into a truck.
Capt. Devin Villa, Salt Lake County Fire Dept.: "It felt like it. There was some deep snow. He was heavy. WE're trying to get him up a hill. It created a lot of obstacles to pull him up out of that snow."
Adam Davies, Salt Lake County Fire Dept.: "It was like dragging a big, heavy weight up some stairs."
The wildlife team will drive the moose back up into the mountains and let him go. They say the deep snow in the mountains is driving the moose into the valley. They're looking for food.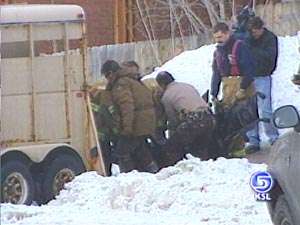 And while they're roaming freely down the streets of Salt Lake City they could also roam into your backyard. So experts say beware and make sure you keep a safe distance.
×