Estimated read time: 2-3 minutes
This archived news story is available only for your personal, non-commercial use. Information in the story may be outdated or superseded by additional information. Reading or replaying the story in its archived form does not constitute a republication of the story.
Carole Mikita ReportingRemembered as a tireless public servant, former Utah First Lady Lucybeth Rampton was memorialized by family and friends today.
Surrounded by family and friends, former Governor Cal Rampton listened as his children sang and paid tribute to his beloved Lucybeth--devoted wife, mother, grandmother and a committed First Lady.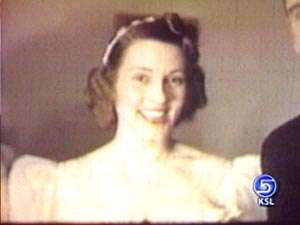 While working as a legal secretary in Washington, D.C. Lucy Elizabeth Cardon met a young attorney named Calvin Rampton; they were married in March of 1940. The war separated the young family but afterwards Cal caught the political bug. He ran for office and lost a number of times until he became Utah's first three-term governor in 1964.
Mrs. Rampton recalled when the responsibility finally hit her husband...
Lucybeth Rampton, 1979: "'What if I let them all down?' And I realized that it had just struck him that here he was elected and he was going to have to be the governor and do the job and he sat there perfectly still for about 30 minutes, I guess thinking the thing through and he said, 'But I won't', and he never has."
Their elder son, Anthony, described his parents as the right people for the right time to lead the state of Utah.
Anthony L. Rampton: "Mom found and thrived on her gifts of compassion and communication. Her particular focus became the infirm."
An educated woman who loved learning, Mrs. Rampton battled clinical depression throughout her life and became a champion for those suffering from mental illness.
Vincent C. Rampton: "In her books, in her discourses, in her understanding, she found the clarity of self that her illness tried so often to stain and cloud."
Janet Rampton Warburton: "I cannot count the number of times I have been approached by people who said it was her information and education about depression that led to their seeking help for their own illnesses."
Elder Neal A. Maxwell: "Lucybeth, therefore, had an unusual authenticity and empathy for those who live in that sometimes tortured twilight zone, the world of mental illness."
Honored today as a tireless public servant, Lucybeth Rampton will be remembered as a woman of compassion who worked help those who could not help themselves.
×
Most recent Utah stories