Estimated read time: 2-3 minutes
This archived news story is available only for your personal, non-commercial use. Information in the story may be outdated or superseded by additional information. Reading or replaying the story in its archived form does not constitute a republication of the story.
BOUNTIFUL, Utah (AP) -- David Jonathan Valken-Leduc has been convicted of first-degree felony murder in the 1996 slaying of a Motel 6 night clerk in Woods Cross.
The eight-member jury returned the verdict Thursday after four hours deliberation. The offense is punishable by up to five years to life in prison. The sentencing hearing has not yet been set.
Defense attorney Aric Cramer said he would appeal.
Valken-Leduc took the stand earlier Thursday and denied that he shot Matthew John Whicker, 30.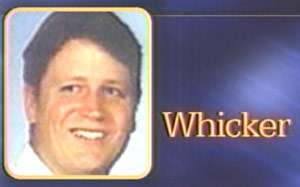 He said he was not at the motel that night, that he had been home in Salt Lake City watching television.
Earlier in the three-day trial, Todd Rettenberger testified that he was the lookout and getaway driver and that Valken-Leduc and Elliott Rashad Harper went inside the motel. Harper is to be tried in July. Rettenberger pleaded guilty to second-degree manslaughter after being kept for his role in jail 51/2 years, He was set free after agreeing to the plea deal.
Valken-Leduc's mother, Doris, and his younger brother, Sean Valken-Leduc, held each other's hands and were visibly upset when the verdict was read.
Judge Glen R. Dawson asked the attorneys to take a five-minute recess after the verdict was read and Doris Leduc hugged her two sons and wept.
"I love you, Mom," David Valken-Leduc said. "Take care of yourself."
"I still believe David is innocent. I believe he will prevail on an appeal. His family and friends are not wavering and will stand by him," his mother said.
After the court was dismissed for the day, Whicker's family members met outside of the courtroom to discuss the verdict.
Whicker's widow, Katrina, said Valken-Leduc "was judged by a panel of his peers. Justice has been served."
Katrina Whicker said her two children, who were only 5 and 2 when their father was beaten and shot to death, knew there was a trial this week, but she has tried to keep the week as normal as possible for them and they attended school while the trial was going on.
Whicker's father, Ben, said, "Nobody is a winner. The other side lost a son like we did. Hopefully it won't be for too long."
(Copyright 2004 by The Associated Press. All Rights Reserved.)
×
Most recent Utah stories