Estimated read time: 2-3 minutes
This archived news story is available only for your personal, non-commercial use. Information in the story may be outdated or superseded by additional information. Reading or replaying the story in its archived form does not constitute a republication of the story.
Keith McCord ReportingA federal appeals court in Denver has ruled that a jury should decide a religious discrimination case brought by an acting student at the University of Utah. The student claims she was kicked out of the theatre department because she didn't want to use profanity in a classroom acting assignment.
It's the case that Christina Axson-Flynn brought against the U, claiming that the school discriminated against her because she's LDS and wouldn't use the Lord's name in vain. She filed her lawsuit in 2000, but two years later a Salt Lake judge threw it out. She appealed and yesterday the federal court overturned the ruling.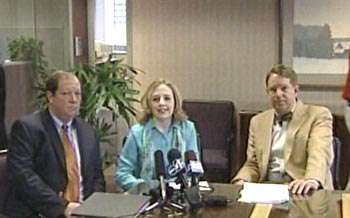 Axson-Flynn and her attorneys are thrilled about yesterday's decision, but this case is not over yet.
In 1998 Christina entered the University of Utah Theatre Department. When faced with a classroom performance that required her to swear, she refused on religious grounds. She claims, and the University denies, that she was threatened with failing grades, and that her religious beliefs were ridiculed.
Attorney Jim McConkie says the 52-page federal court ruling sends a strong message that religious discrimination will not be tolerated.
Jim McConkie, Axson-Flynn's Attorney: "It sends a message that says you cannot compel a student to violate their religious conscience by word or by deed."
David Dynak is the Chairman of the U's Theatre Department. He's disappointed with the court decision, but says a jury trial will show that the University didn't do anything wrong.
David Dynak, Theatre Dept. Chmn.: "The biggest disappointment is that continued commitment of time, energy, resources to a case that we feel has no grounds whatsoever. That's our legal system, and we certainly support Christy's right to bring this action."
Asked about her motivation in continuing legal action, Axson-Flynn says she's not just doing it for herself.
Christina Axson-Flynn: "This is for my daughter, this is for everyone at the u of u, this is for a junior high school student who right now is aspiring to be an actress, who has morals that she believes cannot be compromised."
With the case now active again, it won't just involve Axson-Flynn. Her attorneys say they've been contacted by other students at the U, who say they too have been discriminated against. They may be included in the case should it proceed to a jury trial.
×
Most recent Utah stories