Estimated read time: 2-3 minutes
This archived news story is available only for your personal, non-commercial use. Information in the story may be outdated or superseded by additional information. Reading or replaying the story in its archived form does not constitute a republication of the story.
SALT LAKE CITY (AP) -- A House committee on Thursday endorsed a bill that would ban gay marriage, even as two lawmakers -- a Democrat and a Republican -- questioned the bill's rationale.
The bill defines marriage as between a man and a woman and prohibits recognition of same-sex marriages, common law marriage or civil unions allowed in other states. Its sponsor is Sen. Chris Buttars, R-West Jordan.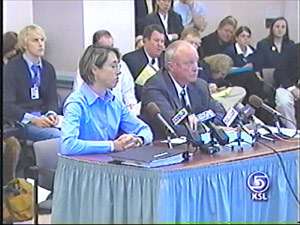 Buttars noted a Wednesday Massachusetts high court ruling that firmly upheld the right of gay people in that state to marry. "But we're in Utah," he said. "I do not believe we're bound by the liberal values in other states."
Four Massachusetts justices wrote in Wednesday's ruling that "for no rational reason the marriage laws of the Commonwealth discriminate against a defined class; no amount of tinkering with language will eradicate that stain."
As he has in previous presentations and debates, Buttars urged lawmakers not to fret over likely constitutional challenges to the bill. "I would hope ... you don't allow yourselves to be held hostage to any such threats," he said.
Rep. LaVar Christensen, who is sponsoring a bill that would amend the Utah Constitution to ban same-sex marriage, cautioned the committee about "democratic despotism" of activist courts that trump the will of the people.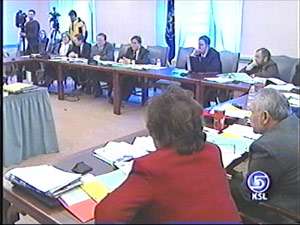 Rep. Scott Daniels, D-Salt Lake City, who voted against passing the bill out of committee, questioned why Buttars' bill was necessary, since Utah code already bans same-sex marriage and says such marriages granted in other states wouldn't be legal in Utah.
"It doesn't change the law in any way I can see," Daniels said.
Rep. Morgan Philpot, R-Midvale, said that when he read the bill just before it came to the committee he became perplexed about its rationale, or lack of it. He said he believes every person has the right to marry, but wasn't sure every marriage has the right to state sanction.
If not, he said, "why don't they have the right?"
In an interview after the hearing, Philpot said that if his questions about rationality "are not answered to my satisfaction, I won't vote for this bill."
The bill passed the Senate last week, and now goes to the House for floor debate.
(Copyright 2004 by The Associated Press. All Rights Reserved.)
×
Most recent Utah stories