Estimated read time: 1-2 minutes
This archived news story is available only for your personal, non-commercial use. Information in the story may be outdated or superseded by additional information. Reading or replaying the story in its archived form does not constitute a republication of the story.
Carole Mikita ReportingThe Oscar-winning movie 'Chicago' was a Broadway musical before it hit the big screen, and now the touring company has come to town, with a Utah connection.
His name is Mark Reis; he studied theatre and dance here at the University of Utah. Now he's performing in 'Chicago' along with the show's star, Tom Wopat.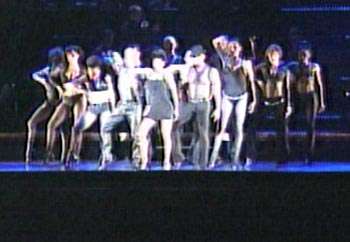 Like the old saying, 'success breeds success', the musical 'Chicago' is once again reborn in a national touring company, starring Broadway Tony nominee and television star, Tom Wopat as Billy Flynn. This show has gone from stage to screen many time. Wopat says it's even more relevant today.
Tom Wopat, Billy Flynn 'Chicago': "A lot of the drive of the show is the cynical aspects of how the media drives justice. And lord knows with Martha Stewart and Mr. Jackson and the whole nine yards, the stuff that's going on today, I mean it's topical."
Singing and dancing in that show-stopping number is a U. of U. grad. Mark Reis studied musical theatre and ballet here. This, he says, is an ensemble show in which everyone gets to shine.
Mark Reis: "Also everybody in the ensemble is very unique. We're not like cardboard cookie cut-outs of each other and I find that pretty special in this show."
While Mark Reis is busy in his off hours visiting old friends and professors, Tom Wopat has something else in mind.
Tom Wopat "I've always enjoyed it here. I'm actually gonna try to get away for a couple of hours and ski this afternoon."
"Chicago" has five performances at Kingsbury Hall and there are still tickets available.
×