Estimated read time: 1-2 minutes
This archived news story is available only for your personal, non-commercial use. Information in the story may be outdated or superseded by additional information. Reading or replaying the story in its archived form does not constitute a republication of the story.
Sam Penrod ReportingProsecutors today hauled three men into federal court suspected in a horrific case of sexual assault involving a 13-year old girl.
Prosecutors are going after severe sentences in this case and can take it federal because of pictures that investigators say prove the men raped a 13-year old girl.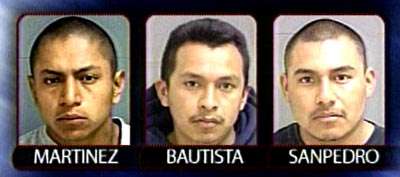 All three suspects face federal charges of sexual exploitation of a minor. They face a mandatory sentence of at least 15 years and possibly up to 30 years in federal prison.
Detectives learned of the rape of the 13-year old girl after one of the suspects dropped off film to be developed. According to court documents, photo lab workers saw photos of a young girl who appeared to be sexually assaulted by several different men. Investigators tracked down the three suspects who allegedly appear in the photographs and arrested them.
Michele M. Christiansen, Assistant United States Attorney: "We are very grateful to the person who developed and identified these pictures and brought them to the attention of law enforcement."
And investigators say what makes this case even worse is that it appears the young victim had been drugged during the assault and she told detectives she had no memory of what is depicted in the photographs.
Javier Martinez, Virgilio Bautista and Andreas Sanpedro are also charged with rape of a child in state court, which carries a five years to life sentence.
The suspects are said to be known gang members, and all three are apparently in the United States illegally. The case will go to a grand jury next week for a formal indictment.
×