Estimated read time: 2-3 minutes
This archived news story is available only for your personal, non-commercial use. Information in the story may be outdated or superseded by additional information. Reading or replaying the story in its archived form does not constitute a republication of the story.
Tonya Papanikolas Reporting Hundreds of people gathered today to remember a couple who died last week when their car got stuck in a remote area of Central Utah. Reed and LoaFae Palmer got out of their car to walk for help, but never made it. The service today focused not on how they died, but how they lived.
The bikes came in all colors and all sizes, but the reason children brought them to the church was the same.
Andrew Jones: "To show that I do love him."
Barbara Bird: "This is the kids' way of saying thanks."
The funeral tribute was fitting, since Reed Palmer was known to neighborhood kids' as the bicycle man.
Josh Miller: "He gave me a bike and he fixed it up whenever I went over there."
Andrew Jones: "He gave it to me and it was in perfect shape. And I hardly ever needed to fix it."
Volunteers helped the children tie yellow ribbons on the handlebars. Friends say it was the perfect way to honor a man and woman who gave so much.
Josh Miller: "He was the coolest man I have ever seen. He was just so nice."
Mary Bonhomme, Friend & Neighbor: "We were all his children and that's what he'd tell you."
Earl Miller, Friend & Neighbor: "Reed and Fae Palmer took us under their wings, made us feel welcome into the neighborhood."
After the funeral service, the Palmers were brought out in caskets side by side, Reed's draped by a U.S. flag.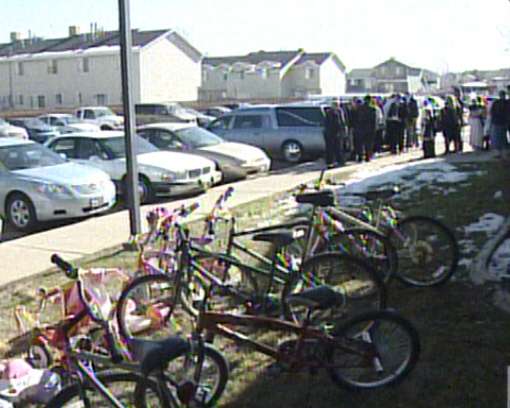 The church was packed with neighbors and friends wanting to pay their respects. It was an example of how Reed and LoaFae touched so many peoples' lives. As family and friends mourned, the shiny bright metal with blowing ribbons nearby left an indelible image in many minds and hearts.
Earl Miller: "This gesture right here is just a small measure of what they have done for us. And if true be known, there would be thousands of bikes lined up here."
All to honor a man and woman the community loved dearly.
×
Most recent Utah stories