Estimated read time: 2-3 minutes
This archived news story is available only for your personal, non-commercial use. Information in the story may be outdated or superseded by additional information. Reading or replaying the story in its archived form does not constitute a republication of the story.
Ed Yeates ReportingA Utah woman with Multiple Sclerosis is defying her disease again - deciding this time to ride a bicycle across the United States.
Eve Steiner is determined to do everything in her power to stay out of a wheelchair. Just take a ride up near Dover Street these days and you'll see Eve Steiner working out on the same bike she rode almost two years from Alaska to Mexico.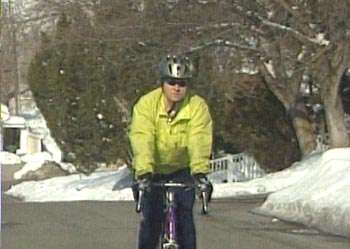 Eve was diagnosed with M.S. more than ten years ago. Though many friends advised against it, she cycled 5,300 miles in 2002. Now, next week, she'll push the petal to the metal again - this time 3,600 miles from San Diego to Jacksonville, Florida.
Why do it? Why push the envelope with a disease like MS?
Eve Steiner: "Because I can. Because I need to prove to myself and to others that MS is not going to stop me, and it doesn't have to stop anybody. And I just need to keep doing this."
In 2002, from Alaska to Mexico, Eve had days when she felt numbness in her legs and a lot of fatigue. She expects the same will happen on this trip.
Eve: "When my body gets stressed out, I get really tired and that can lead to balance issues; that can lead to vision issues, things like that. It's really important that I don't ignore these things."
And she won't -- resting when she needs to, and getting good sleep at night. She also plans to stop and talk to a lot of people during this three month ride.
Eve: "This ride is to show other people that I can do it and hopefully inspire them to try whatever their passion is."
While Eve thought she was destined for a wheelchair, it hasn't happened yet. She's on a new generation drug, which could have altered the course of MS. But there's more going on here than just medication.
Eve: "I have every intention to do as much as possible for as long as possible."
Eve leaves San Diego next Friday and hopes to arrive in Jacksonville, Florida on May the 12th.
×
Most recent Utah stories