Estimated read time: 2-3 minutes
This archived news story is available only for your personal, non-commercial use. Information in the story may be outdated or superseded by additional information. Reading or replaying the story in its archived form does not constitute a republication of the story.
Kim Johnson ReportingThe Hill came to a halt this morning when someone called 911 saying there was a bomb inside the capitol. Authorities decided the threat was credible and an evacuation was ordered.
Authorities aren't yet saying why they decided this threat was credible. The call came in to valley dispatch around 7:30 this morning. On the line was an agitated male saying there would be a lot of damage done and lives lost.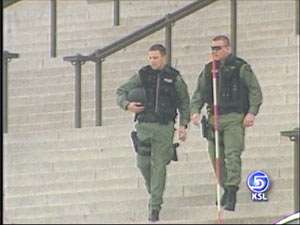 Dispatchers tried to keep the caller on the line, but to no avail. Shortly after he hung up, the word went out for everybody in the capitol to get out.
Ralph Becker: "People weren't panicked by it by any means. The audience and the legislators picked up their things and left. It was an orderly evacuation. Things seemed to go smoothly."
Carol Petersen: "There were some people that wanted to stay, and we had to prod them along, 'Let's go outside, there is a threat.'"
As more than 600 people moved out, SWAT teams moved in. Bomb sniffing dogs canvassed every room, corridor and closet. Outside officers searched the scaffolding, through cars and parking lots.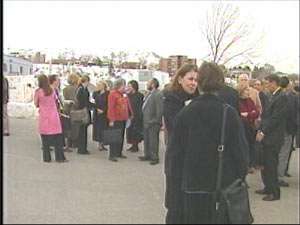 While crowds gathered outside, some lawmakers carried their business across the street where they converged in the hallways and rooms of the state travel council building.
Rep. Wayne Harper: "We were working on legislation, passing on bills. But now I can work with the agency on another bill I'm running."
But the disruption, and ultimate waste of precious time, angered Senate leader Al Mansel.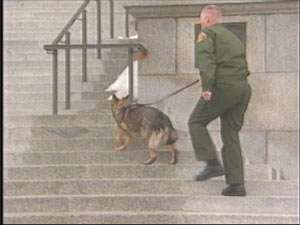 Al Mansel, Senate President: "The frustrating thing is the timing of this, right during committee meetings. And when you have those meetings going on, that's the public's opportunity to come in and visit, place their views on the table, and have the legislators hear them."
And time to hear from the public is running out. The session ends March 3rd.
Fortunately no bomb was found and lawmakers got back to work, just a little later than usual.
×
Most recent Utah stories