Estimated read time: 1-2 minutes
This archived news story is available only for your personal, non-commercial use. Information in the story may be outdated or superseded by additional information. Reading or replaying the story in its archived form does not constitute a republication of the story.
Kimberly Houk Reporting Police say they've got the man who's robbed 16 banks along the Wasatch Front.
Police call him "Slim Jim". An annoynmous caller knew who he was and two weeks ago they told police his name.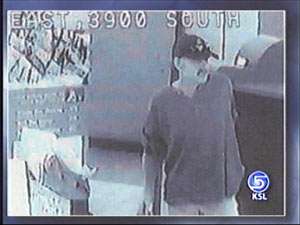 Police say Jeremy Van Duren robbed a Community First National Bank last month. It was the last bank he hit before police put an end to his crime spree. A crime spree they say started last July with the first bank he robbed in Sandy and ended last night with his arrest in Murray.
Officers have been watching Van Duren for awhile. They say once they had him in custody he confessed to robbing 16 banks, 10 of them were in Sandy.
Capt. Ed Moyer, Sandy City Police Department: "They've been working very hard. They've been looking at several suspects and for themto finally catchthe individual who's committed all of these robberies, they feel great."
Police say Van Duren worked alone and caused very little commotion while robbing banks. Investigators say he would walk into a bank, slip a teller a note saying he was armed, and then he'd quietly slip away with the money.
He never disguised his looks and the surveillance cameras did pick him up. However, police say the picture quality was bad.
Van Duren does have a long criminal history. He's served time for drugs and assaulting a police officer. Police say he was robbing banks for drug money. They were not able to recover any of the stolen cash.
×
Most recent Utah stories