Estimated read time: 2-3 minutes
This archived news story is available only for your personal, non-commercial use. Information in the story may be outdated or superseded by additional information. Reading or replaying the story in its archived form does not constitute a republication of the story.
Carole Mikita ReportingThis next story has all the elements of a best seller -- A family escaping from the Nazis, stolen art, a trail gone cold. And, it's all come back to life at the Utah Museum of Fine Arts.
On go the white gloves and out comes the precious piece of art, more so now that museum curators know its history. At the beginning of World War II it was stolen from a bank vault in Paris. The idyllic scene of young lovers by Francois Boucher mid 1700s became a target of the Third Reich's looting.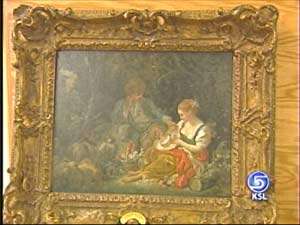 From 1933 to 1945 the Nazi regime orchestrated a massive program of art theft. French art dealer Andre Seligmann, a Jew, and his family escaped Paris in 1940; his art did not. Adolf Hitler's right hand man Hermann Goering took it near the end of the war. He put the collection on a train.
David Carroll, Dir. of Collections, Utah Museum of Fine Arts: "The train, when it was found by the allies, had largely been stripped of its contents and the painting disappeared at that point."
After the war it went somewhere in Europe, later surfacing for sale to a New York City gallery by a mysterious figure. A Utah art collector bought it and donated it to the museum. Then, about a year and a half ago art historian Nancy Yeidy, an expert on Nazi-confiscated art, contacted the Utah Museum of Fine Arts about the painting.
Missing art stolen by the Nazis is now listed on the internet. Yeidy found the Boucher painting on the museum's website and wrote a letter saying the family wants it back. The museum agrees.
David Carroll: "Regardless of the passage of time, that doesn't undermine the fact that it was stolen, it was taken by force."
So the painting will soon return to its rightful owners. Mr. Seligmann's daughter and daughter-in-law will travel from Paris to Salt Lake to pick it up.
×