Estimated read time: 2-3 minutes
This archived news story is available only for your personal, non-commercial use. Information in the story may be outdated or superseded by additional information. Reading or replaying the story in its archived form does not constitute a republication of the story.
Ed Yeates ReportingA 17-year old teenager who injured himself and three other kids after a chemical explosion at his home today apologized and warned his peers, "Don't mess with Drano."
Drano in the drain might be safe, but fooling around with it, even in a plastic cup is asking for trouble.
Jesus Godoy: "I just heard a boom and it was in my eyes and I said, 'Mom, I can't see, I can't see."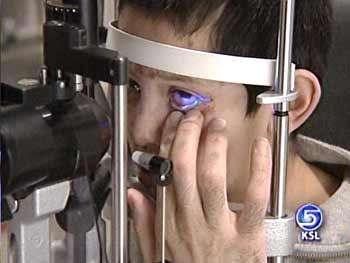 Wearing protective goggles to shield against bright lights, 17-year old Jesus Godoy and his ten-year old brother Alexander appeared before reporters to warn others about the dangers of common household chemicals. With lights dimmed and goggles off, the damage is clear. And so is the warning.
Gabina Moran, Mother: "Do not let kids under the age of twenty one use Drano, because it's explosive without knowing it. It's very dangerous."
Jesus says he was not trying to make a bomb, but admits he was fooling around with the Drano, confining the chemical inside a plastic cup.
Jesus: "I was just trying to make it erupt, like come out and erupt. I didn't know it was going to blow."
But blow it did, into his eyes and the eyes of his brother and two neighbor kids.
Lucy Moran, Aunt: "He is so heartbroken. That's why he's here. He wants other kids to know, even older kids that it happens too quick. It happened all just so fast."
Majid Moshirfar M.D., Ophthalmologist, Moran Eye Center: "We are very fortunate that in this case we were just dealing with a plastic container. But if this were actually a metallic container, it could have been much more serious."
Moran Eye Center specialists say Jesus, Alex, and a 9-year old neighbor boy will all get their full eyesight back again. But the eight-year old neighbor boy got almost third degree burns in the eyes and may need special surgeries and a corneal transplant.
Again, Jesus does not mix words.
Jesus: "Do not try, do not use it. Do not even mess with it because you don't know what's going to happen."
Dr. Moshirfar says even plumbers sometimes make mistakes with Drano - adding other chemicals which produce a chain reaction.
×