Estimated read time: 1-2 minutes
This archived news story is available only for your personal, non-commercial use. Information in the story may be outdated or superseded by additional information. Reading or replaying the story in its archived form does not constitute a republication of the story.
Samantha Hayes reportingAfter an Ogden apartment building caught on fire Monday evening, one resident thought she had lost everything, including her two cats.
Two days later a neighbor saw the cats, alive and well.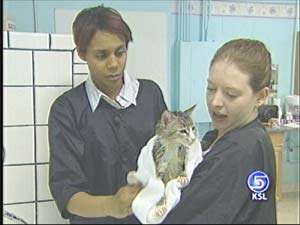 Most people see an all black cat as a sign of bad luck. But for Mia Crawford it meant everything good.
She thought she lost Whiskers and Skipper when her apartment caught on fire.
The fire burned for several hours, the building was a loss and its occupants forced to leave.
Last night a firefighter contacted Crawford and asked her to come to the apartment complex to get her cats.
Mia Crawford, Cat owner: "Then when I seen whiskers in the window I just couldn't believe because I didn't think they made it, not with the way those buildings were burning...not at all."
Now she is gratefully washing the smoke smell out of their fur. Besides the bad smell and a little cough, the cats are okay.
Crawford works at a pet grooming and supplies store in Ogden so she and her co-workers have been busy spoiling the felines.
Mia Crawford, Cat owner: "I tell all my good friends I have to take care of the kiddies, meaning my kids and my cats. Those are my babies...so it felt good to know that they made it."
Crawford also lives with her husband, two kids, and a bunny.
Fortunately, all of them were out of the apartment during the fire.
×