Estimated read time: 2-3 minutes
This archived news story is available only for your personal, non-commercial use. Information in the story may be outdated or superseded by additional information. Reading or replaying the story in its archived form does not constitute a republication of the story.
Kimberly Houk reportingNick Baldwin, Attacked by a Moose: "Hoofs were flying. It was like a tornado going on. He was stomping me, and kicking. "
A man attacked by a moose lives to talk about his traumatic experience, and how he survived.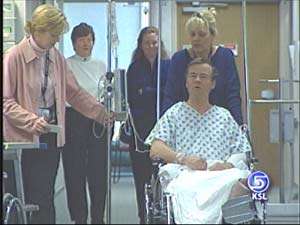 Nick Baldwin is in the hospital. He was trampled by a moose, while snowshoeing in a canyon near Park City.
He was with two companions who were instrumental in saving his life, and getting him some help.
Nick Baldwin says he's lucky to be alive. He's recovering in the hospital after the left side of his body took a bad beating. He says he can't believe he lived to talk about his terrifying experience of being charged by a 700 pound moose.
Nick Baldwin Attacked by a Moose " It happened so fast, and I was so beat up. It was kind of like a tornado was going off. He was behind me, and somehow we ended up next to a big tree trunk… and it saved my head. He could have killed me on the spot. "
But it didn't, and doctors say it could have been worse.
Marc Mariani, M.D. St. Mark's Hospital: "He's lucky he's doing as well as he is.. When you look at the multiple abrasions and contusions he has through out his body, it's amazing the moose didn't make more direct contact than it did. "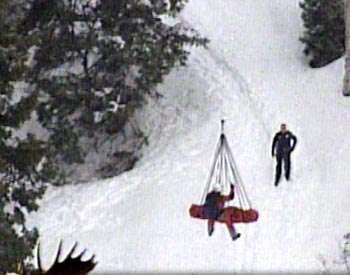 While snoeshowing with a couple of friends in Toll Canyon near Park City... they ran right into the moose.
The 3 slowly moved off the trail and hid behind a tree.
Nick Baldwin Attacked by a Moose: "All of a sudden, he just sprang through the lower branches of this tree, and some of the branches were this big around, and all I can remember is being hit… and going down. "
While the animal kicked, Baldwin says a tree trunk protected his head, while a metal avalanche shovel in his backpack protected his spine.
Nick Baldwin Attacked by a Moose: "It was a lot of turmoil and activity in the snow. And the branches were breaking and things were happening. It was pretty scary. "
Baldwin has a broken left scapula bone near his shoulder, many bumps and bruises, some soft tissue damage, and a large gash on his left thigh. A contusion formed under the thigh muscle, pushing the muscle out of his skin. But doctors say he's going to be fine.
Nick Baldwin Attacked by a Moose: "Some power up above saved me. I'm very lucky to be alive."
Nick's left thigh might require future surgery. He is recovering well and he should be released from the hospital tomorrow.
As for going back to Toll Canyon, he says NO WAY.
×