Estimated read time: 2-3 minutes
This archived news story is available only for your personal, non-commercial use. Information in the story may be outdated or superseded by additional information. Reading or replaying the story in its archived form does not constitute a republication of the story.
Carole Mikita ReportingThe issue of free speech takes center stage on a Salt Lake college campus. The object of contention is an art exhibit at Salt Lake Community College that uses LDS Missionaries to make a point about gay lifestyles.
Diversity Week on the South City campus brought law enforcement officers to an angry gathering. Some found an artist's use of their faith offensive.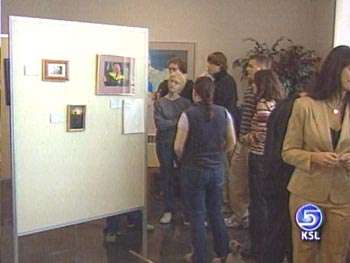 "This is my school! This is where I go. Why should we all have to look at it? Put it somewhere else!"
"This is our civil rights. This is our civil rights, these are our rights. We should be allowed, just like you should be allowed to wear your CTR ring, just like you should be allowed to have your missionaries knock on someone's door."
It was photographs that sparked the argument. They're of young men, supposedly Mormon missionaries. The pictures are part of a larger exhibit sponsored by a campus group called Coloring Outside the Lines.
The members say they are dedicated to discussing alternative lifestyles in a friendly and safe environment to ensure safety. The community college called on state troopers to make sure both people and art were unharmed. Even with a warning sign, the exhibit was too much for some.
Joseph Freed, SLCC Student: "It doesn't have to hold true to everybody else. The fact is, it offends me and what I believe in. And if I was to do that to any other religion, something would be done about it."
The artist, Don Farmer, said he didn't take the photos to offend anyone. He claims the subjects are returned missionaries who agreed to pose for him.
Jordan Bernhart, SLCC Student: "If you chose to walk through and if you chose to look at it and chose to get offended, then that's your choice."
The administration says colleges and universities are gathering places for ideas, some of them controversial. The hope here - let the students work together to figure out what should be done.
Joy Tlou, SLCC Dir. of Public Relations: "The show is actually gonna stay up for the scheduled period of time, whether it's in this space or whether or not we put up signs. That's something the students are gonna come up with and that's what the college is supporting."
Late this afternoon, the students did come to an agreement-- the exhibit has been moved from near the main foyer to a temporary classroom near the cafeteria. This is not the first time these photographs have been exhibited in Salt Lake -- they sparked a similar controversy while on display at another college campus last year.
×