Estimated read time: 2-3 minutes
This archived news story is available only for your personal, non-commercial use. Information in the story may be outdated or superseded by additional information. Reading or replaying the story in its archived form does not constitute a republication of the story.
Keith McCord ReportingDoctors warned a woman to have a caesarian section to save her baby, she refused, the baby died, and now the mother is charged with murder. It's a case that's already making national headlines and sparking a heated debate over ethics, fairness and the right to life.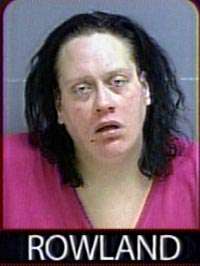 We've heard cases before where an expectant mother has been putting her fetus at risk by drinking, or using drugs, or other dangerous behavior. This one has a different twist-- it wasn't what she was doing, it was what she didn't do.
In custody tonight, charged with murder, is 29-year old Melissa Ann Rowland. She was arrested nearly two months after the stillborn death of her child.
It's a complicated story involving several local hospitals, doctors and nurses who continually advised that Rowland needed medical attention in order to save her baby's life. The Salt Lake County District Attorney's office says Rowland's lack of action violates the law.
Kent Morgan, District Attorney's Office: "And the conduct was that she omitted her duty to take care of her child and get affirmative treatment. That's what makes this case so egregious."
It started on Christmas Day at LDS hospital. Rowland--carrying twins--told a nurse that she hadn't felt them move. The nurse advised her to go to either Jordan Valley or Pioneer Valley Hospital. According to the charging documents, Rowland replied: "she'd rather have both her babies die before she'd go to those hospitals..."
January 2nd, she saw a doctor at LDS Hospital.
Kent Morgan, District Attorney's Office: "She went and saw a doctor and he indicated that there were very severe medical problems at that time, and that she should immediately have a cesaerian section."
According to the charges, the doctor told police: "She refused to have the c-section and left." This despite being warned that lack of treatment could result in the death or severe injury of her babies.
A few blocks away she told a nurse at Salt Lake Regional Hospital that a doctor wanted to cut her "from breast bone to pubic bone", and that would "ruin her life". The nurse says Rowland made a comment to the effect that she'd rather "lose one of the babies than be cut like that."
January 9th, Rowland went to Pioneer Valley Hospital to verify that her babies were still alive. Once again she left and refused treatment after warnings that her babies are in danger.
January 13th she went back to Pioneer Valley and delivered her twins. One was dead; the autopsy shows the boy had died two days earlier.
Kent Morgan, District Attorney's Office: "There wasn't a lack of resources. Any one of these hospitals could have taken care of the needs and saved this child."
Rowland is charged with murder and bail is set at $250,000. We're told that she has other children and is married. She'll make her first court appearance in the next day or two.
×