Estimated read time: 2-3 minutes
This archived news story is available only for your personal, non-commercial use. Information in the story may be outdated or superseded by additional information. Reading or replaying the story in its archived form does not constitute a republication of the story.
John DaleyThe family at the heart of a tragic auto accident that killed two children is facing a series of challenges. The Robles family is focusing on healing and on the health of six-year-old Christopher who survived, but is still recuperating.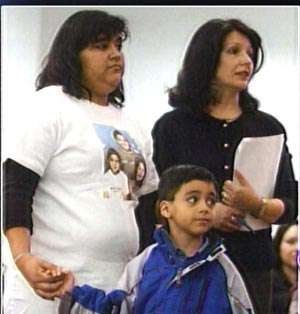 Six-year-old Christopher Robles is at the center of a family focused on healing. Yesterday he, his parents and extended family were there to testify before a judge issued a tough sentence for Michael Joseph Whitton who was at the wheel of the car which killed his older brother Jorge and younger sister Yanir, and left him with his legs shattered.
Family members say now they can turn their attention to emotional and physical wounds that are still fresh, especially for the boy.
Luiz Robles, Father: "He sometimes, he asking for his brother and he cried, 'Why is he not there.' Emotionally sometimes go down, sometimes go up."
Of immediate concern is Christopher's rehabilitation. He was in a coma for a week after the accident. Since then he has undergone eight surgeries on his legs.
Luz Robles, Aunt of Victims: "We're struggling. I mean he has surgery on the 17th and this is only to remove some of the pieces of which he still has in his legs. We're not talking reconstructive surgery yet. This is just to get him to be capable of walking and to keeping the rehabilitation. There's more to come."
Paying hospital bills is a growing concern. A patchwork of money from the driver's insurance, medicaid and Primary Children's Hospital has helped cover most of the nearly $150,000 total. But much more treatment is needed.
Both parents are unskilled laborers--dad Luis has a green card and is applying to be a US citizen, but neither has health insurance. Still the family is determined. They have each other and a community lending support, including thousands of dollars contributed after the accident.
Luz Robles, Aunt of Victims: "We are so grateful because the community has helped us so much."
And six-year-old Christopher is like a ray of sunshine. When reporters ask how he's feeling…
"Fine." Q-"How does it feel to have those things on your legs?" A-"Nice."
When asked if he's looking forward to playing soccer again, Christopher smiles and nods 'yes.'
Christopher Robles has another surgery scheduled for next Wednesday.
×
Most recent Utah stories