Estimated read time: 2-3 minutes
This archived news story is available only for your personal, non-commercial use. Information in the story may be outdated or superseded by additional information. Reading or replaying the story in its archived form does not constitute a republication of the story.
Sandra Yi ReportingGuy Hood: "You could just look in his eyes and see the fear and he probably felt the heat on his back."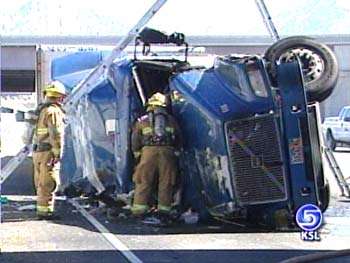 A highway patrol trooper and witnesses acted quickly to save the driver trapped in a burning semi. The semi crashed and caught on fire on I-215. The wreck closed westbound I-215 for more than four hours.
The semi passed Michael Persinger on I-15. Michael Persinger, Witness: "I was breaking. I didn't really have time to think."
Persinger says the driver was speeding when he hit the westbound I-215 ramp. Highway Patrol Troopers say, the semi may have been going as fast as 80 miles an hour.
Michael Persinger: "I didn't see any break lights. I didn't see him slowing down, and the semi just started to tip and then it flipped on its side, and when he hit the ground on his side, it was like an earthquake, and then he slid right in front of my car."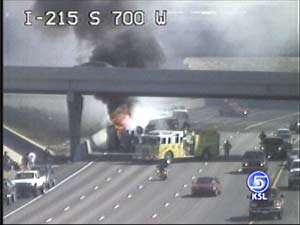 Investigators say, the semi hit the center divider, flipped onto its side, then caught on fire. Persinger says the fire started off small, then grew quickly.
Michale Persinger: "Very quickly, the entire underside, where the gas tanks are, was engulfed in flames. A few seconds later there was a loud shot, almost sounded like a gunfire, a small explosion."
Jesse Valenzuela, Murray City Fire Dept.: "The tanks are melted through on the tops where it burned through on the aluminum tanks."
Meanwhile, the 30 year old driver was still trapped inside. Two witnesses and a trooper became heroes. Persinger says they broke the semi's windshield, pulled the man out, then dragged him to the shoulder. A Highway Patrol dash camera video shows the daring rescue.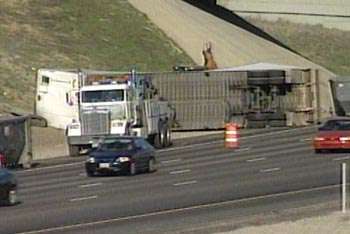 Michael Persinger: "As they tried to move forward, flames, a small explosion. Everyone moved back. Very hot, very intense."
Guy Hood, Utah Highway Patrol: "A good portion of the bottom of the cab was engulfed. It was very critical we got him out when we did."
Crews put the fire out. Hazmat crews then doused the spilled fuel with foam. Investigators say the semi may have been carrying insulation products, which are highly flammable.
Jesse Valenzuela: "It would have been a pretty spectacular fire with the foam that it's carrying right now. Foam pellets and other stuff that will burn at a high rate of speed."
The truck driver was taken to the hospital with serious head and back injuries. The Highway Patrol says he will be cited for speeding.
×