Estimated read time: 2-3 minutes
This archived news story is available only for your personal, non-commercial use. Information in the story may be outdated or superseded by additional information. Reading or replaying the story in its archived form does not constitute a republication of the story.
John Hollenhorst ReportingState regulators called a halt to a major demolition project in Provo after someone blew the whistle about asbestos in the ceilings of the motel rooms.
Asbestos isn't dangerous unless fibers get loose in the air and someone breathes them into their lungs. Strict rules are designed to avoid that. In this case it looks as though something must have gone wrong.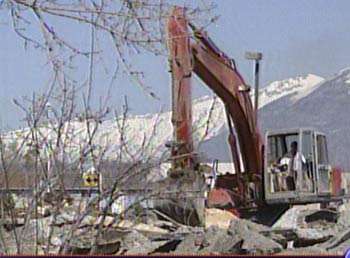 Demolition was underway for days at the defunct Howard Johnson's Hotel when a confidential caller alerted state regulators. That caller seems to have had inside information that asbestos was present, contradicting a private inspection report.
Asbestos is supposed to be removed by certified experts in protective gear, inside a sealed plastic shroud. Asbestos fibers are known to scar lungs and cause cancer.
Bryce Bird, Utah Div. of Air Quality: "There is no known safe level of exposure to asbestos."
State officials initially approved demolition because the company that owns the Howard Johnson's property apparently followed the rules by hiring a private asbestos inspection firm. That private inspection did find legally unacceptable concentrations of asbestos in the South Wing. That was removed properly and that wing is now demolished.
But in the North Wing, the private inspection found asbestos concentrations less than the one-percent legal threshold. It was only after demolition began and someone complained that state regulators did their own inspection. Unacceptable asbestos concentrations were found in the ceilings of guest rooms.
So, why did state inspectors find it and private inspectors did not?
Bryce Bird: "That's one of our biggest concerns is to find out in the future what happened and what can we do to prevent similar things from happening in the future."
A man who works in the asbestos removal industry told us problems like this are not uncommon and are often just swept under the rug. The fundamental problem, he says, is the state bureaucracy is a paper tiger with no teeth.
Proper removal in a building like this costs about $60,000, he says, and state fines are usually far less than that when violations are discovered, so there's a disincentive to find asbestos.
In January, the state did fine the Las Vegas company that inspected the Howard Johnsons. It was in illegal inspection because the company's state certification had lapsed. State regulators considered it a minor paperwork violation, fined them $1,000 and never re-inspected the motel.
Bryce Bird: "And in this case, it's obvious that we should have."
That Las Vegas inspection company told us today they would have no comment and hung up on us. Officials at the Chicago firm that owns the property say they followed all the rules, but they offered no explanation for discrepancies in the inspections.
×