Estimated read time: 2-3 minutes
This archived news story is available only for your personal, non-commercial use. Information in the story may be outdated or superseded by additional information. Reading or replaying the story in its archived form does not constitute a republication of the story.
Carole Mikita ReportingFor nine young mothers it's graduation day from the Family Support Center's Lifestart Village. The program is designed to teach them how to care for their families and learn job skills at the same time.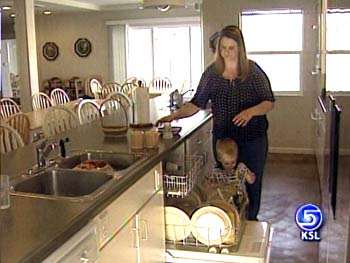 Lifestart is a unique program in the nation-- not a shelter because the residents agree to the training and educational programs, a way to get out of the cycle of poverty and abuse and they all have a part in each other's success. Today was the program's first graduation.
Rebecca is a single mother of three young children with no way to support them. She used to describe herself as lost and lonely, and unable to cope. But after completing Life Skills Training at the Family Support Center, she is now class valedictorian and grateful to those who taught her.
Rebecca, Lifestart Village Graduate: "I have so much gratitude. I am so thankful for all the people, just who's helped me in the program. ) I finally feel like I'm getting self-sufficient and doing it on my own."
Lifestart Village, the women say, gives them structure and security, but allows them the freedom to make choices.
Brandy, Lifestart Village Graduate: "It's given me a new found freedom, given me some structure, given me the ability to better my life and make some lifetime goals that I can meet."
The two-year program with the life skills curriculum includes parenting classes, nutrition and health, and crisis management. The next phase is called 'boost' and prepares the residents for jobs. It gets them out of the cycle of poverty.
Kaitiee Earl, Lifestart Village Service Coordinator: "These women who are graduating have completed the ten-week life skills class, which gives them a lot of training on all sorts of different issues. And they've had to do homework for this class. They've had to do all sorts of things. And we've really seen them blossom since they've taken that class. It's really exciting."
Lifestart Graduation program is tonight at 6 pm at the Midvale Police Department, that's about 7900 S. Main, 700 West.
×
Most recent Utah stories