Estimated read time: 1-2 minutes
This archived news story is available only for your personal, non-commercial use. Information in the story may be outdated or superseded by additional information. Reading or replaying the story in its archived form does not constitute a republication of the story.
Kimberly Houk ReportingDrivers who witnessed a bad accident at the mouth of Provo Canyon last night quickly rushed to help a woman who was ejected from her rolling car. The people are now being called heroes for helping to possibly save the badly injured woman.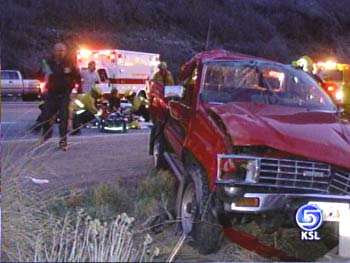 Witnesses say they're still in shock over what they saw last night, but they didn't have time to react; they just knew they had to help.
The Spencer family was driving down the mouth of Provo Canyon last night when they saw a driver drift off onto the side of the road, over-correct, and start to roll. Both the male driver and the female passenger were ejected.
Carol, Witness: "To see that body fly out through that window, somersault through the air and hit on the road like it did, it was awful."
Francis Spencer, Helped Crash Victim: "It makes you realize how precious life is. Things really happen quick."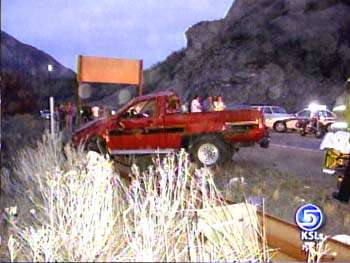 Along with the Spencers, many others stopped to help. One man used a knife to cut the woman's shirt away from her face so she could breathe. Another person wrapped up her severed arm and kept it beside her until the ambulance arrived.
Carol: "One gentleman leaned over her and offered a prayer, and those are the kinds of things that helped."
The Spencers say they're not surprised so many people stopped to help; they say they live in a community full of great people.
As for the female victim, she is still in the hospital tonight fighting for her life.
×
Most recent Utah stories