Estimated read time: Less than a minute
This archived news story is available only for your personal, non-commercial use. Information in the story may be outdated or superseded by additional information. Reading or replaying the story in its archived form does not constitute a republication of the story.
MURRAY, Utah (AP) -- An argument at a bar ended in a shooting at the suspect's residence that left the victim in critical condition but expected to survive, investigators said.
Police say Robert H. Daniels and another man got into an argument last night in the Barbary Coast Saloon in South Salt Lake at about 6 p.m. Sunday.
The victim followed the Daniels to his home and was shot in the torso. The victim then drove himself three miles to another bar, the Phat Tire Saloon in Murray, and, "He collapsed right in front of his truck," Rivera said.
He was flown to University Hospital.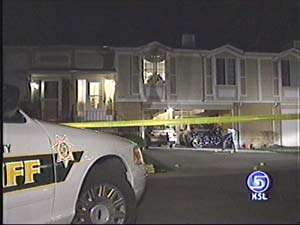 Daniels called authorities at 7:03 p.m. "He turned the weapon in when he turned himself in," Rivera said.
"It's very fortunate for the detectives that we do have the shooter off the street and the gun in custody so no one else will be injured tonight," Rivera said.
(Copyright 2004 by The Associated Press. All Rights Reserved.)
×