Estimated read time: 2-3 minutes
This archived news story is available only for your personal, non-commercial use. Information in the story may be outdated or superseded by additional information. Reading or replaying the story in its archived form does not constitute a republication of the story.
John Hollenhorst ReportingAnother sure sign of spring is upon us. We're not talking about robins and lovebirds; nope, we're talking trash here. And what better place to go for the latest than the county landfill?
The place has been "busy, busy, busy." That's all one employee would tell us because he was too busy to say any more. What they've been dealing with is the usual spring cleanup, plus a vivid reminder of our winter blues.
At the Davis County Landfill, vehicles stood in line to get to the dump over the weekend. An all-time county record--well over a thousand loads of trash, nearly all of it "citizen" trash, the kind that comes in pickup trucks and small trailers.
The Salt Lake County landfill had even more, 1900 citizen loads on Saturday. And it's busy this week too. Warmer weather means it's time for the annual spring-cleaning chore.
Norm Anderson, West Jordan: "That's the downside. But I guess it's worth it for the upside."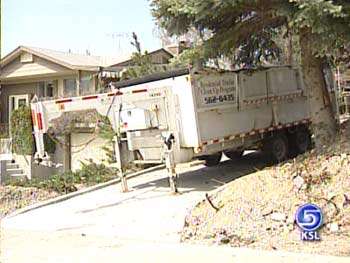 Bruce Goudelock, Salt Lake City: "When the snow cleared, I was itching. We were ready to get some stuff out of the yard."
Norm Anderson's trash is mostly tree waste.
Norm Anderson, West Jordan: "This is a tree that was tipped over with the big snowstorm after Christmas."
Tree debris is always a big component of the trash supply, but especially this year, Ryan Creighton says. He's helping his neighbors get rid of dead wood that fell during the snowiest weather in years.
Ryan Creighton, West Valley City: "This is my third trip so far this week. Probably two more and I'll be done."
In a typical year the county landfill collects more than 20,000 tons of yard and tree waste. It has received 4,000 tons already this year, and the yard season has barely begun.
Jill Fletcher, S.L. County Landfill: "The yard waste is separated out and made into compost."
If you have an unusually large supply of trees debris, Salt Lake County will rent you a trailer. They drop it off; you fill it up, they haul it away--all for $20.
Bill Hobbs, Salt Lake County: "This year it's really popular with the damage we had, with the heavy snow we got."
Salt Lake County offers that trailer service only in unincorporated areas, but the idea is starting to catch on. It's a good idea to check with your local public works department to see what cleanup services are available.
×
Most recent Utah stories