Estimated read time: 1-2 minutes
This archived news story is available only for your personal, non-commercial use. Information in the story may be outdated or superseded by additional information. Reading or replaying the story in its archived form does not constitute a republication of the story.
Carole Mikita ReportingThe international sensation called 'Riverdance' has returned to Utah for a third engagement, bringing some of the world's most dynamic, young dancers with it.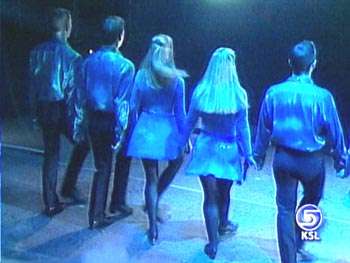 Ten years later and still going strong, the phenomenon called 'Riverdance' instantly reached audiences with its intense and heartfelt production numbers. But it also opened new doors for the young Irish performers, each of whom is a championship dancer.
Melissa Convery, Principal Role 'Riverdance': "We would dance to a world championship level. And after that, you'd go on to teach, maybe dancing if you like or you'd go onto college. But it would never go any further than that. Really you'd just give it up maybe when you were eighteen. When 'Riverdance' came along, it was fantastic opportunity to make a professional career out of it."
It takes seemingly endless hours of individual workouts and group rehearsal time to get into this kind of shape. With every new city on the tour the routine continues-- massages, run throughs, etc.
Anthony Sharkey, Lead Dancer 'Riverdance': "About quarter to seven, you do cardio for about 15 minutes, then another 15 minutes after that you stretch for a good 20 minutes. And then it's show time, smiles on, hello."
Just how long can this show go on? Another ten years these dancers say. Maybe their children will take center stage someday in 'Riverdance'.
'Riverdance' opens tonight at the Capitol Theatre with performances through Sunday.
×